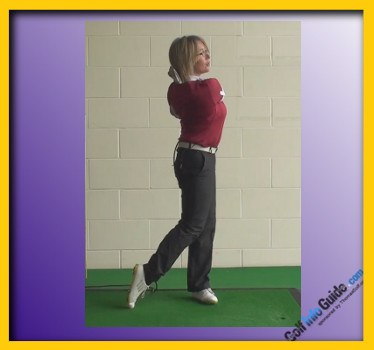 It's estimated that women comprise about 40% of the roughly 2.5 million beginning golfers in the U.S. In total, approximately 22% of all 24 million American golfers are female. That's more than 5 million ladies walking the fairways in the States alone – and they're every bit as hungry to improve as their male counterparts are.
Worldwide, golf's popularity has increased steadily among women. Ladies golf is especially big in Asia, as evidenced by the dominance of women's professional golf by Korean and Japanese players. In addition, women everywhere have found the game to be both a great social activity and a valuable avenue for business networking.
Of course, few sports can match golf for relaxation, stress relief and connecting with the outdoors in beautiful surroundings.
Whether you're hitting the course for the first time or you've been swinging for years, you're surely interested in getting better at the game. Yet there are very few outlets devoted to women's ladies golf instruction. Golf-Info-Guide.com is here to fill the void.
Our ever-growing library of ladies golf tips, provided by professional teachers, come in both text and video formats. From basics like addressing the ball to more advanced topics like swing tempo, no stone is left unturned. Our tips will help you tame a slice, drive the ball farther, chip it close and sink more putts.
We offer numerous ladies golf practice drills designed to eliminate bad habits and ingrain good ones. Want to learn how to hit a fade or draw? There's a tip for that. Struggle to hit the ball crisply from tight lies? There's a tip for that, too. We also cover ladies equipment, with a focus on getting the most from today's hybrid clubs.
Beginners, long-time casual players and serious, avid female golfers will find content at Golf-Info-Guide.com to boost their games to the next level. And that's what it's all about.
Ladies Golf Tip
For the most part, there is very little that is different between the men's and women's game in golf. Unlike other sports, which often have different rules or playing fields, golf is pretty much the same for the two genders. Sure, most ladies will choose to play from the forward tees, but that isn't set in stone – some long-hitting female players will move back onto the 'men's' tees. Also, while there is golf equipment designed specifically for women, there is no rule stating that ladies aren't allowed to use men's clubs. Simply put, the golf course doesn't care what gender you happen to be, as it treats all golfers the same.
With that said, there are a few unique elements to ladies golf that need to be understood. As a female golfer, it is important to pay attention to how the design of the golf course changes when you are playing from the forward tees. A hole that plays a specific way from the back tees can look dramatically different from the front tees, and it is up to you to come up with a strategy that gives you the best chance of success.
One item in particular that needs to be considered is fairway bunkers. The fairway bunkering is often designed with the back tees (or middle tees) in mind, so it can play a little awkward when hitting from the front tees. For example, a bunker that might be out of reach from the back tees could suddenly be in play with a good drive from the up tees. To avoid running into problems with fairway bunkers, it is important that you take the time to analyze each tee shot individually – rather than just pulling driver out of your bag when you arrive on the tee. Many ladies make the mistake of hitting driver on each and every par four or five, a strategy which can actually hurt your score. Pick the club that gives you the best chance of being positioned in the fairway, even if that isn't your driver.
Strategy is important for all golfers, but ladies playing the front tees might need to do even a little extra thinking prior to putting the ball in play. By getting the yardages to all of the fairway bunkers, and then picking a club that will keep you away from those hazards, you can find your ball resting in the short grass far more frequently.