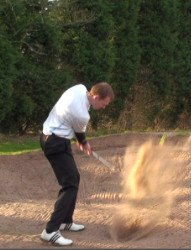 Bunker(aka Sand Trap): A hazard filled with sand. There is no penalty for hitting a ball into a bunker; however, specific rules govern play from these hazards.
Bunkers are as integral to golf as the cup itself. They punish poor shots and serve as strategic guideposts from tee to green.
The very first bunkers on the ancient links of the British Isles weren't man made, but were formed by livestock sleeping and grazing in natural hollows. Early golf course architects took a cue from these sheep-warming shelters, building ever deeper and more elaborate pits alongside fairways and greens.
Indeed, bunkers come in a dazzling array of shapes and sizes. Small, steep-sided pot bunkers pock the seaside links of Great Britain and Ireland, as well as links-style courses in the U.S. and beyond. Other courses feature sprawling, multi-fingered craters, deep, flat-bottomed crevasses and shallow, innocuous-looking slivers sliced into the earth.
No matter their style, all bunkers are designed to signal strategic options, penalize poorly planned or wayward shots, and beautify the golf environment. To the everyday player, though, bunkers exist strictly to inflict fear and pain.
The golfers of yore struggled mightily to escape these nasty torture chambers. In the 19th and early 20th centuries, golf clubs were ill-suited to the purpose of blasting a ball from the sand. Then the great Gene Sarazen, winner of seven major championships from 1922-35, added "bounce" to the sole of a lofted club and called it a "sand iron." Instead of burying in the dirt, Sarazen's magic invention blasted sand and ball up, out and over the lip.
The rest, as they say, is history.
Of course, the best sand wedge in the world can't save a golfer whose bunker technique is poor. And that's where we come in.
The articles below offer a range of tips covering the very basics of bunker play – stance, alignment, ball position – to more advanced topics, like hitting a wood from a fairway bunker or adding backspin to your sand shots. You'll also find stories that make sense of the oft-confusing rules governing bunker play.
Check this page often as Golf-Info-Guide.com is constantly updated with new material – all provided free – to help you become a better golfer and enjoy the game more.