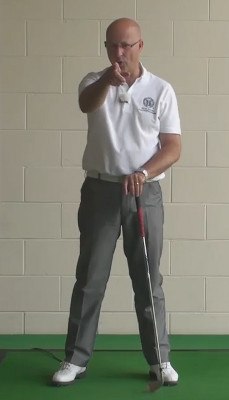 Senior Golf Tips: Don't let age slow you down. These tips are designed to help senior golfers overcome physical limitations and hit the ball as well as ever.
The old axiom "no pain, no gain" doesn't really apply to golf. On the course, pain is the enemy of performance.
Unfortunately, senior golfers often must play through a bit of discomfort while engaged in their favorite pastime. Muscles get sore, joints ache, the back tenses up… Who says golf isn't an athletic endeavor?
Advancing years can also sap one's strength and flexibility. Distance and accuracy inevitably suffer. But that doesn't mean you can't play great golf as you get older. The world is full of seniors who shoot their age on a regular basis, win club championships or compete professionally beyond age 65.
The first key to aging gracefully as a golfer is resolving to stay as fit and flexible as possible while accepting your limitations as the "new normal." Work with the body you've got, not the one you had. That means making concessions when necessary and adjusting your fundamentals, swing and equipment accordingly.
Maybe it's a minor tweak in your posture to accommodate an aching lower back, or a simple change in foot position to help your hips turn more easily through the ball. Perhaps you need to let the lead arm bend a little to make a longer swing, or aim a bit left to account for the fade that's replaced your natural draw.
As long as you can play pain-free and get the ball from the tee to the hole, there's no reason you can't enjoy golf as much as any limber-backed kid. After all, that's why they call golf "the game of a lifetime."
The following tips will help you defeat the aging process, or at least play it to a stalemate.
Senior Golf Tip
One of the many great things about the game of golf is that it is a game for a lifetime. Plenty of golfers play well into their 70's and beyond, meaning that they can continue with one of their favorite hobbies even at an advancing age. Golf carts make it easier for seniors to get around the course, and the social interaction is a great opportunity for individuals who otherwise may not get out of the house very often.
If you are a senior golfer, shooting the lowest score possible might not be on top of your priority list as things like exercise and fresh air may be more important to you these days. However, that doesn't mean that you have to totally give up on playing good golf. You may be losing a little bit of distance off the tee as you age, but you can improve your skills in other areas in order to maintain your scoring ability. In fact, many golfers find that they start to score better as they get older, thanks to experience and an understanding that sheer distance isn't the most important part of being a good golfer.
To keep improving your game, make it a point to work hard on your pitching game from between 20 and 50 yards from the target. These are shots that you will face more and more often as you age. Long par fours that you used to reach in two shots may now require two full shots and a pitch, so it is important that you have your wedges dialed in from this tough yardage. Also, when you find your ball in the rough off the tee, you may not have the strength to force it onto the green – meaning you will again have to lay up into this short pitching range.
The three points below are crucial when practicing the pitching portion of your game –
• Keep your head still. Making solid contact is vital on short pitch shots, and that starts with a steady head position. Keep your eyes on the ball through impact, and make sure your head isn't moving up and down during the swing.
• Use loft. Many amateur players prefer to pitch with an 8 or 9 iron, but you will be better off hitting these shots with a sand wedge. Using a sand wedge allows for a higher trajectory and more carry, so you can get the ball safely over any obstacles in front of you. Practice pitching with a sand wedge so that it is comfortable for you on the course.
• Read the green. Just like with a putt, you want to read the green prior to hitting a pitch shot. Are you hitting uphill or downhill? Is there any side slope in the shot? Read the ground in front of you and then pick your target line based on that information.
Senior golfers make up a large percentage of the overall golfing population, and for good reason. Golf is a great game for those enjoying their retirement years, and you can continue working to improve your game no matter what age you happen to be. Considering the changes that are going to happen to your swing later in life, focus your practice time on improving your pitching so you can keep setting up those short par putts.