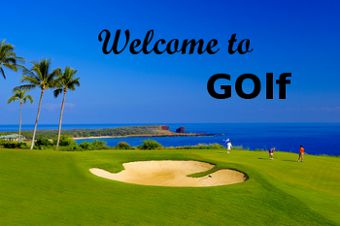 Before you start bombing them down the fairway, there are some fundamental golf tips that all beginner golfers should know. This section of How To Play Golf – beginner golf tips & lessons, lays out the basics from the initial correct addressing of the golf ball all the way to the final follow through.
Learning how to play golf the correct way is key for all beginner golfers to build a solid swing foundation. Once a beginner golfer develops bad habits, it's much harder to cure and try to unlearn them than it is to get it right from the start.
This comprehensive guide on How To Play Golf will save time, money and frustration for all beginner golfers who are looking to develop their game.
Beginners are often caught off-guard by golf's difficulty. Who knew a game where all you do is hit a stationary ball while standing in place could be so complicated? So intimidating? So hard?
But the challenge is what makes golf so great.
Unfortunately, many new golfers give up in frustration after a just few practice sessions or a couple of casual rounds. Those who make it through the initial stages, however, soon find that improvement comes in leaps and bounds. Next thing you know, they're hooked for life.
While some individuals are blessed with gifts that translate well to the links – such as hand-eye coordination, flexibility and rhythm – natural ability matters less in golf than perhaps any other sport. Nobody – and we mean nobody – simply picks up a golf club and starts smashing 300-yard drives, lofting precision iron shots or sinking 30-foot putts.
No, golf doesn't play favorites. Everyone starts on a level playing field, where height, weight, foot speed, leaping ability and other traditional measures of athleticism don't determine who excels and who rides the bench.
That's one of many reasons the game is so appealing.
So how can you, the novice golfer, move from the awkward early phase to the next level, where you routinely get the ball airborne, finish holes without picking up and hit numerous shots every round that bring you back for more?
By learning the fundamentals of How To Play Golf, of course. It may not sound exciting or sexy, but don't knock it till you've tried it. The golf swing becomes much simpler when it's built on a solid base of these four elements:
Get these right and you take four big steps toward playing well and enjoying golf to its fullest. And that's what this website is all about.
There is one other part of golf beginners often find daunting: Etiquette. When is it OK to talk on the course? When is it my turn to hit? What do you mean I stepped on your line?
Don't worry – we've got you covered. Our beginner section includes tips on proper manners and more, such as how to dress on the course, how to keep score, and even how to save money playing this sometimes expensive game.
So what are you waiting for? Dive into our beginner tips and learn golf the easy way.