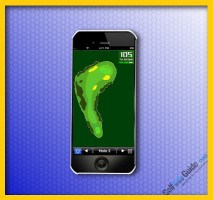 A golf GPS (Global Positioning System) is an electronic device to aid golfers in club selection.
It can provide the precise shot length needed to reach the golfers target and help avoid miss clubbing. When used correctly the golfer can prevent shots short or long of the selected target, and could help in lowering scores. A golf GPS can be a much better choice compared to stepping the yardage off, or the use of charts.
GPS for golf come in many styles and types like: laser rangefinder, stylish watch design, pocket-friendly, touchscreen display, and voice feature.
Some Benefits:
No more measuring out or guessing of distances.
Helps prevent measuring out or guessing of distances.
Adds confidence when playing.
Large number of pre loaded courses
Helps to speed up play, finish faster
Less tension can help lower your score
After the round you can take advantage of the built in statistics to work on the part of your game that needs improvement.
Your round of golf using GPS becomes more enjoyable

A GPS Device Can Be Your Own Personal Caddie
Technology has changed the game of golf in a lot of ways, and the availability of GPS units is at the forefront of that change. In the not-too-distant past, golfers had to 'walk off' their yardages from various fixed monuments around the course. Today, you can simply pull a GPS unit out of your pocket, check the yardage in an instant, and prepare to hit your shot. Almost all golfers would agree that the availability of this technology has made for a great improvement in the game as a whole.
So is a GPS unit right for you? After all, they are not mandatory equipment, and you can certainly play the game just fine without one. However, the convenience and accuracy that they offer is hard to beat. Think over the three points below when trying to decide if you should spend the money on a golf GPS unit.
• How often do you play new courses? If you play the same golf course over and over again, you probably don't have much need for a GPS device. After all, you probably know the yardages at your home course like the back of your hand. However, if you are a player who loves to get around and try new courses, a GPS is a great idea. The difficulty of learning a new course can frequently lead to higher scores, but having a GPS on your side can help level the playing field.
• How often do you golf? GPS devices can cost in the range of $200-$300 or more, so it is not a purchase that should be taken lightly. If you only golf two or three times per year, the cost of the device is probably not worth it for you. On the other hand, if you play several times a month, the enjoyment and benefit you get from a golf GPS will easily be worth the money you spend.
• How good are you? Golfers who are just getting started in the game might not be able to enjoy the benefit of having a GPS – because they won't be able to hit the ball reliable distances to take advantage of the information the GPS provides. Think about the status of your game and decide if a GPS unit is something that can help you play better golf.
Golf has a reputation as being an expensive game to play, but it doesn't have to be that way. If you shop smart, you can acquire all of the items on this list without having to break the bank. When shopping, remember the information provided above and you should be left with a set of golf equipment and accessories that is ready to help you reach new heights on the course.