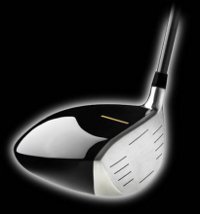 In this section you will find golf driver reviews and driving tips. It may be golf's least versatile club, but the driver sure gets plenty of attention.
Heck, it's even got its own clichés and catchphrases: Grip it and rip it! Let the big dog eat! You da man!
Of course, there's also "Drive for show, putt for dough," which seems to dismiss the driver as merely the tool of the macho. That's a long way from the truth. Fact is, hitting the driver is more than an ego play. As the first club out of the bag on most holes – i.e., the one responsible for placing the ball in good position – the driver is critical to golf success.
Hitting it consistently well is also one of the game's toughest tasks.
Because it features the longest shaft and least lofted face (aside from the putter) of any club, the driver – or #1 wood – poses unique challenges. It can be more difficult than other clubs to hit squarely on the sweet spot. It's harder to hit with accuracy, too. It's all too easy to slice the ball with the driver, which requires a long swing that's well coordinated from start to finish.
Did we mention distance? It's true – the No. 1 thing most golfers want from their driver is longer tee shots. Sound like anyone you know?
Well, you've come to the right place. In this golf driving tips section, Golf-Info-Guide.com offers numerous tips for boosting your driving distance, such as the "two-tee drill," increasing your clubhead "lag" and, believe it or not, slowing down your swing.
Distance is just part of the equation, though, and we can help with your accuracy issues, too. Whether it's aiming with precision or switching to a different shaft flex, our experts deliver sound advice for hitting more fairways.
This section would be incomplete without tips on fixing common driver problems. Got an incorrigible slice? We can cure it. Hitting hideous hooks? We'll straighten 'em out. Skying the ball off the tee? We'll help you bring those drives down to earth.
Bottom line: Golf-Info-Guide.com is loaded with lessons that'll have you blasting long, accurate drives your buddies will envy. Hey, everybody needs an ego boost sometimes.