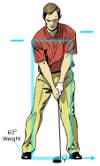 In order to make a good golf swing, you must set up properly to the ball. Every great golfer has sound fundamentals.
Before you can make a good golf swing, you must set up properly to the ball. It's as simple as that.
Every great golfer has sound fundamentals, though they don't always look the same. That's golf for you – what's right for one player may not work for another. A person's body type, strength, flexibility and other factors influence how he holds the club and addresses the ball.
Still, the fundamentals don't vary much from one golfer to the next for golf shots. The important basics to master include gripping the club; choosing a target and aligning your club and body; the width and balance of your stance; your posture; where to position the ball in relation to your feet; and how high to tee the ball for golf shots.
Golf-Info-Guide.com covers all these topics with a bevy of tips, drills and lessons. Our section on Setting Up Your Golf Shots, features text and video tutorials tailored to a range of golfers – beginner to intermediate to low-handicapper.
Sort through the list at left and you'll find a wealth of useful info. We'll teach you to correctly position the ball with each club in the bag; aim the clubface directly at your target every time; align your feet, hips and shoulders to match your shot; employ a grip style that's both comfortable and effective; and assume perfect posture and maintain it throughout the swing.
Already know the basics, backward and forward? We've got advanced tips for varying your shot trajectory by changing ball position; tweaking your setup for a fuller backswing; aligning correctly when playing from uneven lies; even playing the "stinger" golf shots used by the pros.
No matter how long you've been playing golf, how well-versed you are in swing mechanics or how confident you may be that your setup is solid, it's still important to check your fundamentals often. The pros do it every time they step onto the driving range or practice green. Visit this page often – it's updated frequently with fresh content. You're sure to find a tip to improve your grip, stance, aim or posture. And your scores.