Welcome to Golf-Info-Guide.com ...get ready to play some amazing golf! You've found the world's largest collection of quality golf information: PGA Teaching Pros sharing their best golf tips, drills, lessons, advice, fault cures, golf news, golf terms, golf equipment, and so much more!
This website caters to golfers of all experience levels and handicaps, from beginner golf tips and lessons, to weekend golfers, to single-digit handicappers. We're constantly adding new online golf tips and swing fixes, so check in often to get up-to-date lessons and tips for playing your best and most satisfying golf.
In addition to an extensive and expanding library of golf tips, we feature categories exploring the different types of golf clubs, equipment, glossary of golf terms, and more. Explore the ARTICLES, VIDEOS, and TOOLS Tabs at the top of this page. Under each tab you will also see a Menu button to view the categories of that tab.
Below is just a small sampling of what you'll find here at Golf-Info-Guide.com:
Featured Video Golf Tip: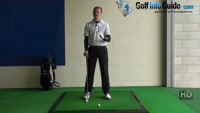 Tom Watson Pro Golfer Delicate chip from the rough Video - by Pete Styles
Featured Golf Tip Articles:
Golf Equipment Comparison Charts: