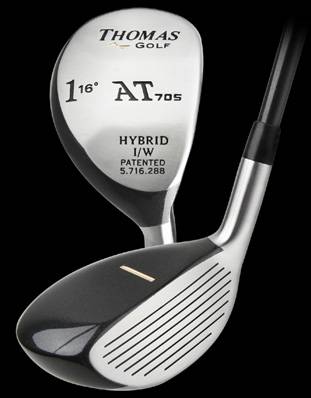 Simply put, a hybrid golf club is a cross between a conventional iron and a fairway wood. It's also a fine example of the cliché, "best of both worlds."
A relatively new invention, hybrid golf clubs were originally designed for play from thick rough, fairway bunkers and other difficult spots. In fact, many golfers still refer to them as "rescue" clubs. Hybrids exploded in popularity around the year 2000, when it dawned on golfers that these clubs were good for more than trouble shots – they could actually do the job of traditional long irons.
It was nothing short of an epiphany. For decades, golfers had struggled with long irons (numbers 1-4), which – due to their small clubheads and low degrees of loft – require considerable skill to use effectively.
By contrast, the hybrid golf clubs larger, deeper clubhead provides a lower center of gravity which helps average players get the ball airborne. With its curved sole, the hybrid slides easily across the turf without snagging. Like a fairway wood, the hybrid is also quite handy when hit from a tee. But with a shorter shaft, the hybrid offers better control than a traditional wood.
These days, nearly all golfers (including most top pros) carry at least one hybrid club. Some carry several hybrids, while a few carry an entire bag full of them – companies such as Thomas Golf make hybrids that can replace every conventional club, driver through lob wedge.
As hybrids have taken hold, golfers have discovered new ways to utilize the clubs. Their head shapes make hybrids extremely versatile; they're useful from poor lies such as divots, for punching the ball between trees, even chipping around the greens.
This section of Golf-Info-Guide.com is devoted exclusively to hybrid clubs. Via text and video lessons, our experts share advice on everything from basic fairway and tee shots to more advanced topics like hitting hybrids from the sand. Peruse the tips at left to learn why hybrids should be in your bag (if they're not already), and how to get the most from these innovative weapons.