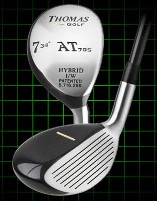 So, when you ask yourself when should I use a hybrid, use it when you need forgiveness, control and a shot that requires the ball to come off of the club in a high trajectory. Don't restrict your shots with a hybrid to certain situations. Try it from the fairway, the bunkers and even when you need to hit recovery shots. Think of your hybrid as the workhorse in your bag. It's forgiving, versatile and easy to get along with.
So, in general what is the hybrid golf club? The hybrid wood is an impact club because it will change the way you play the game. Drivers will always be the hottest club to market because golfers are always looking for extra distance off of the tee. However, if you want to make a real investment in your game then you need to buy some hybrids. Replace your irons. Replace your fairway woods. Hybrid woods are forgiving and when it comes down to it, how many perfect shots do we hit every round?
Hybrid clubs are here to stay. The combination of power and accuracy that they can offer isn't easily found with any other style of club. If you are serious about playing better golf, you owe it to yourself to at least try out a couple different hybrid club models and find out how they perform with your swing. Most likely, you will love what they have to offer and decide to add at least one to your set of clubs. No longer do you have to fight with fairway woods and long irons that you struggle to hit – pick up some hybrids for your bag and the game can quickly become just a little bit easier.
If you decide that you actually want to add several hybrid clubs to your set, don't worry about having to purchase them all at one time. It is perfectly acceptable to gradually acquire your new hybrids as your budget allows. When taking this approach, be sure to replace the longest clubs first as those are the ones that will give you the greatest benefit. Hopefully, it wont take long and you will be able to purchase all of the hybrids you want to perfectly complete your new set.