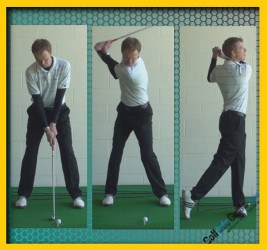 Modern professional golfers all learn from the same textbook, employ the same fundamentals, and exhibit the same positions from setup to follow-through. Right?
Wrong.
It's true that many of today's pros display by-the-book soundness throughout the swing, but there's still plenty of variation among the group. One thing all pros have in common: A swing sequence that amateurs can learn from.
Just as every pro has at least one exemplary swing element, they've all got a flaw or two you should be wary of adopting. After all, it's important to know what not to do, too.
The articles listed at left focus on the methods of an ever-expanding list of top pros, highlighting each golfer's bio, unique qualities, what you can learn from their technique and which parts of their game you should avoid copying.
Prime example: Jack Nicklaus.
Yes, Nicklaus holds the professional record with 18 major championship victories. Yes, his combination of power and accuracy caused the great Bobby Jones to comment, "He plays a game with which I'm not familiar." And yes, elements of the Golden Bear's setup and swing make excellent standards.
But Nicklaus' pronounced lower-body action is difficult to duplicate while maintaining balance. Amateurs are well-advised to look elsewhere for a model on this fundamental.
You'll find detailed analysis of Nicklaus' golf swing sequence in this section, alongside in-depth breakdowns of golfers including Adam Scott, Bubba Watson, Michelle Wie and, of course, Tiger Woods.
What makes them great? For Scott, it's remarkable flexibility paired with near-perfect technique. Watson, on the other hand, is one of golf's most unorthodox players; he relies on imagination to hit those wondrous shots. Wie's calling card is a wide, athletic swing which produces uncommon power, while Woods pairs a free-flowing driver swing with a controlled motion for pinpoint short shots.
Similar, yet markedly different. There's more than one way to swing a golf club – these tips highlight what you can adopt from the world's best swings.