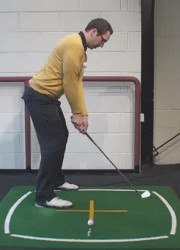 Sometimes it seems like golf is a righty's world. The pro shop carries few if any clubs for lefties, and you're lucky to find a LH glove in your size. When you step up to your round's first tee shot, some wiseguy in your foursome inevitably cracks, "Wait, you're aiming the wrong way."
But just when you feel like the world's loneliest lefty, Phil Mickelson and Bubba Watson start piling up major championships and you realize — there is a place for southpaws in this game.
Granted, Phil and Bubba don't have a lot of company among professional golfers. That's hardly surprising since, according to studies, only about 10% of the population play left-handed golf. In fact, Mickelson is actually right-handed; he started swinging as a lefty while watching his dad play from the right side.
Consider, though, that there are approximately 24 million golfers in the United States, and some 60 million worldwide. Assuming 10% are playing left handed golf, that means you've got 2.4 million American companions and about 6 million around the globe. That's a lot of lefties.
So why is every tip in every golf pub written from the righty's perspective? For that matter, why isn't there a Golf Digest for Lefties or a Golf Magazine – Southpaw Edition?
Golf-Info-Guide.com to the rescue.
We've got an ever-growing library of left handed golf tips in both text and video format. Each one geared specifically toward the port-side player. No longer must you perform mental gymnastics to get the gist of a lesson (such as … "Ok, so when it says right leg, it really means left leg… and a right-handed draw is actually a left-handed fade"). You are now free to read or watch without reversing every instruction. You will comprehend and retain the info with far greater ease.
And that translates to better golf. No matter which side you swing from.