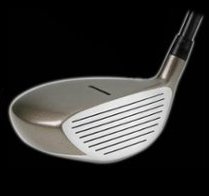 They may lack the driver's glamour, the novelty of hybrids or the putter's importance, but fairway woods can be an indispensible part of your golf club set.
Don't let the name fool you – fairway woods aren't just for fairway shots. (They're no longer made of wood, either.) Numbered anywhere from 2 to 25 based on clubhead loft and shaft length, these clubs are useful from most anywhere on the golf course.
For instance, the tee. Let's say you're staring down the fairway of a par 4 that's lined with trees on one side, water on the other. You'll get more distance from a driver, but you may wind up wet or behind a massive pine. Choosing a fairway wood, such as a number 3 fairway wood, gives you a better chance of finding the short grass with only a minimal loss of yardage vs. the driver.
Fairway woods can be quite handy from the rough, too, where their rounded clubheads encounter less resistance than an iron, and from fairway bunkers, where their low center of gravity helps get the ball up and out of the sand. Some golfers even use fairway woods for long chip shots around the green, or to "putt" when the ball rests against a collar or fringe.
Of course, we can't forget the fairway wood's primary purpose – hitting long-distance shots from the fairway. Usually, this means the second shot when laying up, or going for the green, on a par 5. But modern courses feature so many lengthy par 4s, everyday golfers are often forced to play approaches with fairway woods.
The scenarios above are all covered in Golf-Info-Guide.com's Fairway Woods Tips section. You'll also find a seven-part lesson detailing the fundamental fairway wood setup and swing, plus advice on choosing the best fairway woods for your game. As always, our experts offer text and video tips on maximizing your distance, accuracy and consistency.
Hitting fairway woods, particularly off the turf, can be challenging. But learn how and when to wield these versatile sticks and you'll be rewarded with lower scores.