While it's somewhat rare to find a golfer who carries a #2 driver/fairway wood, it's a club that could make a great fit for your set. Here's why:

---

Head size is the biggest reason some golfers prefer a 2-wood to a traditional driver (1-wood). With a head volume of 200cc, it's less than half the size of today's full-size drivers. Many golfers feel they can swing such a club with less air resistance, and also locate the sweet spot more consistently than with large-headed drivers. The smaller head makes the club feel lighter.
The 2-wood's 12° of loft are more than most drivers provide, but less than a 3-wood, which typically has about 14°. The additional loft makes it much easier to hit the ball off the tee while delivering more height and forgiveness.
The standard length of a Thomas Golf 2-wood is 45" (¼" shorter than a driver), making it a little easier to consistently hit the sweet spot.
The #2 wood has about 200 grams of head weight, about the same as most driver heads. This weight helps maximize swing speed and distance.
Some golfers are able to hit the 2-wood off the fairway, giving them the option to go for the green in two on long par-5s.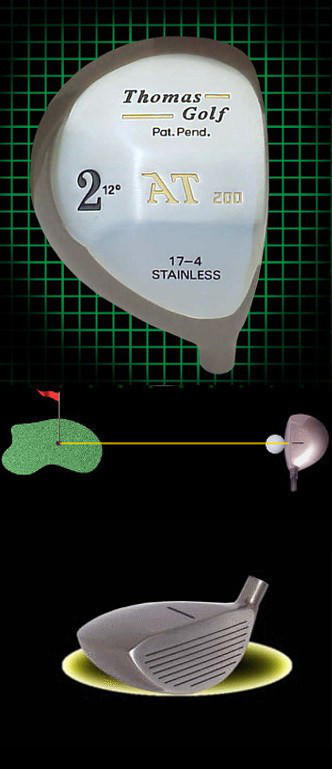 Still Plenty of Room for Fairway Woods in Your Golf Bag
---
With all of the attention that hybrid clubs have been receiving in recent years, you might think that fairways woods are on their way out of the game. It is true that hybrids have taken up a spot or two in the bag that might have previously been occupied by a fairway wood, but these versatile clubs still remain very important for countless amateur and professional golfers. Hybrids can't do everything that fairway woods can do, and vice versa. A well-rounded set of golf clubs will usually have both fairway woods and a hybrid or two among the fourteen allowable clubs to ensure that the player can deal with any shot that is required on the course.
One of the most important jobs of fairway woods is hitting tee shots on holes where you don't have enough room to hit your driver – or you just aren't comfortable with the driver on that tee for one reason or another. Being able to reach for a golf 2 wood or golf 3 wood to give yourself more margin for error when trying to hit the fairway is a great advantage. Many golfers hit their driver far too often, placing an emphasis on distance instead of accuracy. If you want to lower your scores quickly, one of the best things you can do is put down your driver and use your fairway woods more often from the tee. Carrying a golf 2 wood or golf 3 wood as an alternative off the tee makes this strategy possible.
Another shot that fairway woods can help you with is the second shot on a par five when you have hopes of reaching the green in two shots. For this kind of shot, you will often be using a 3 wood, but you could also put to use a golf 7 wood or even a golf 9 wood depending on the distance of the shot. Hitting a par 5 green in two is an exciting accomplishment because it sets you up for what should be an easy birdie – and possible eagle. The design of a fairway wood makes it the perfect club to hit from the fairway and get the right combination of distance and height to give you the best chance to put the ball on the green.
Long par threes are yet another area of the game that fairway woods can help you solve. When you arrive at a par three hole that is too long for any of your irons to handle successfully, the job will probably fall to your golf 7 wood or golf 9 wood to hit a quality shot and get somewhere on or near the green. Often the difference between a good round and an average one is your performance on the tough par threes – so trust your fairway woods to help you navigate these challenging holes.
To make sure you are getting the best possible performance out of your golf fairway woods, let's take a closer look at some of the techniques and skills that you will want to practice. All of the instruction below is based on a right handed golfer, so be sure to reverse the directions if you are a left handed player.