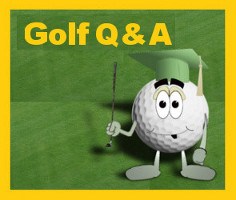 It's not unusual to walk off the golf course with questions swirling in your head.
Why is this game so hard?
Why can't I play any better?
Why do I love it so much?
Yeah, golf is like that. Complicated. Frustrating. Habit-forming.
In some ways, being a golfer is to relive one's youth. So much to learn. So many questions.
Why should I keep my left arm straight and my head down? You might as well ask what makes the sky blue and the grass green. What's the secret to hitting a flop shot? Ha! Reminds us of the teenager's timeless query, How do you talk to girls?
Golf invites more online golf questions than a congressional hearing. Some pop up during rounds: Why did I slice that shot? What club should I use for this chip? How can I make solid contact with the ball in this divot?
The game tends to linger in the mind, too. A golfer can be in the middle of a meeting, eating dinner or watching TV when suddenly, he finds himself asking things like, How can I break out of my slump? Should I try a different putting grip? Would I hit the ball straighter if I shortened my backswing?
We've asked all those online golf questions ourselves. And many, many more. The difference between our experts and the everyday golfer? Our experts know the answers.
Here in the online golf, Questions and Answers section of Golf-Info-Guide.com, you'll find easily searched, simply phrased topics explaining – in clear language – the hows, whats and whys of the swing, the techniques for playing different shots, the causes behind your faulty attempts and, of course, the advice and cures for whatever ails you.
In this ever-expanding online golf section, our pros field a host of common golf questions and provide the right – and wrong – answers. The responses offer in-depth explanations, solutions and tips to end confusion and make you a better player.
Some Q&A tips are geared toward the novice golfer, like "How Can I Keep My Head Down?" Others tackle issues faced by the intermediate player – for example, "How Do You Play a Three-Quarter Wedge Shot?" We've also got answers to the advanced golfer's questions, such as "How Should I Hit a Lob Wedge from a Tight Lie?"
The golf course itself is the source of many mysteries. How do you play from a pot bunker? What's the best strategy on a "Cape" hole, or when faced with a false front? We cover those subjects and more.
From the most basic inquiries ("How Can I Hit More Fairways Off the Tee?") to more specific queries ("How Can I Hit a Muddy Golf Ball?") to the universal ("What is the Best Quick Fix for a Slice?"), if you've ever asked it, we've probably got it covered.
Golf is a great game – but it can be a bit complicated. There are countless terms to learn when first getting started in golf, and you also need to educate yourself on equipment, courses, etiquette, and much more. To be sure, it can be a daunting task to get started in this game. However, it would be a shame for you to pass up learning this great game just because you feel overwhelmed at the start. To help you grow your knowledge of the game of golf, we have put together some answers to common golf questions.
The information contained in this series should be extremely valuable to a beginning golfer. Even if you are an experienced player, you might find the content to be enlightening.
Within this ongoing series, we are going to answer many common golf questions. In some parts of this series, we will touch on topics such as the full swing, the short game, equipment, and etiquette. In other parts, our attention will turn to rule issues, course management, playing in tournaments, and a variety of other questions with answers. While it might seem that all of those categories would have just about covered everything you could need to ask about this great game, there are still more questions and answers to come.
Of course, we don't have all the answers, or even all the questions. If you've got one that's not listed in the contents at left, just click this link and send it along:
And remember, there's no such thing as a dumb question. Especially in golf.