Have you recently taken up the game of golf in your retirement years?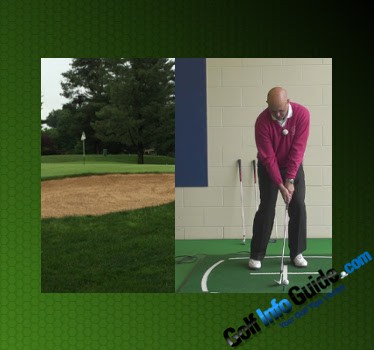 Congratulations! This is a great hobby for people of all ages, and it is a particularly good fit for those who no longer have to clock in and out of the office each day. With time available to spend on this leisurely game, you may soon find that playing rounds of golf with your friends at the local club or course is one of your favorite activities.
While there is a lot to be excited about when getting started in golf, you will soon find that there is plenty to learn, as well. This is a notoriously difficult game, after all, and you are going to have to hit plenty of poor shots along the way. With this article, we would like to help you learn how to manage one of the tough shots that is sure to come up from time to time as you gain experience in golf – the greenside bunker shot. Most golf courses feature at least a few sand bunkers, and some courses have several on each and every hole. While it's obviously best to stay away from these traps, you are inevitably going to find your way down into the sand on occasion. Knowing how to escape greenside sand traps in a single swing is a valuable skill.
In this article, we are going to provide you with a starter lesson on how to play greenside bunker shots. The information contained below is going to approach the topic at a basic level – if you are an experienced player, you may know all of this already. However, even if you do have some experience, it might be worthwhile to review this information in order to remind yourself of some fundamentals that may have gone missing over the years.
All of the content below is based on a right-handed golfer. If you happen to play left-handed, please take a moment to reverse the directions as necessary.
Understanding the Concept


Part of what makes greenside bunker shots so challenging for so many players is the fact that they are played differently than almost all the other shots you encounter on the course. In this section, we are going to explain how greenside sand shots are different, and what you should be trying to accomplish when you are swinging the club. The ideas in this section are based on a 'standard' greenside bunker shot; one which is played from a reasonably good lie. If you have a poor lie, there are some other options you should consider, which will be mentioned later in the article.
There is a lot to learn here, so let's break it down into a set of key points –
You aren't trying to hit the ball. That's right – we may as well start off the list with the strangest part of greenside bunker shots. Unlike virtually every other shot you'll play on the course – where the goal is to put the club on the back of the ball – you aren't actually trying to contact the ball when hitting a standard greenside bunker shot. Instead, you are trying to hit the sand, which will then propel the ball up onto the green (hopefully). This type of shot is often referred to as an 'explosion' shot because you will be blasting a bunch of sand up into the air to send the ball toward the target. For many players, it is hard to trust the idea of hitting the sand behind the ball, instead of the ball itself. Of course, the only way to build trust is to actually practice this technique. As you get more and more comfortable with the idea of hitting behind the ball in the sand, you will gradually come to trust this method on the course.
You need to make a big swing. This second point goes right along with the first one. If you are going to be hitting the sand behind the ball, instead of the ball itself, you are going to need a rather big swing to hit the ball only a short distance. That's because the sand is going to absorb most of the power from your swing. Rather than efficiently transferring the power of your swing into the ball, you are going to lose most of your power as the club sinks into the sand. Only a bit of the swing's energy is going to help the ball up toward the target, so a big swing will usually be required. As you might expect, this is another point which gives beginning golfers trouble. It just feels weird to make a big swing when you are so close to the green. So, how do you get over this issue? Practice, of course! Just like with the previous point, you are going to need to practice using big swings to hit short greenside bunker shots in order to develop your confidence.
Judging distance is the challenge. Hitting the ball on the right line out of a greenside bunker is not particularly difficult. Assuming you aim properly when you take your stance – more on that later – you should have little trouble hitting the ball in the right direction. The challenge, then, is to hit the ball the right distance. There are two elements to every bunker shot in terms of distance – carry distance and roll distance. Naturally, the carry distance is how far the ball is going to fly in the air, while the roll distance is how far it will travel after it lands before it comes to rest. How much roll out you get depends on the lie of the ball, the condition of the course, and much more. Learning how to predict how much bounce and roll you will get is yet another one of those things that you'll learn with experience. With each shot you hit, pay close attention to how much the ball rolls out, and add that knowledge to your memory bank. Gradually, you'll get better and better at judging your distance, and you'll start to hit your shots close to the hole with regularity.
Get your footing. When playing shots on the grass, it isn't particularly difficult to maintain your footing. You should have pretty good grip on the bottom of your golf shoes, and they should hold only the ground nicely as you swing. There might be an occasional slip when the ground is wet, or you are on a step hill, but for the most part this shouldn't be a problem. In the sand, however, the story is different. The sand is often going to be loose and fluffy, meaning you may find it difficult to keep your feet stable as you swing. To combat that problem, try 'wiggling' your feet down into the sand an inch or two before you hit your shot. That act should help to secure your stance, and you should be able to make a pretty big swing without losing your footing. Of course, it's still possible that you'll slip, so pay attention and do your best to keep your feet under you while hitting the shot.
As you can see, there is a lot to learn here. When you boil it down, however, it doesn't have to be too intimidating. You'll need to hit the sand before the ball, you'll need to make a big swing, and you will want to do your best to establish firm footing. With practice, you'll get better and better and judging your distance, and you will start to feel better about your chances of hitting good shots from the greenside sand traps.
Building a Reliable Stance


The way you stand next to the ball to make a golf swing is always important, no matter what kind of shot you are playing. In the bunker, you need to make sure that your stance is supporting the type of swing you need to make. In this section, we are going to highlight the key points to include in your stance for a standard greenside bunker shot.
Feet in a wide position. You want to use a wide stance for these kinds of shots – perhaps wider than for any other shot you will hit. The wide stance is going to accomplish a couple of goals. First, it will help you stay stable during the swing, making it less likely that you'll slip in the process of making an aggressive move through the ball. Also, a wide stance is going to help you get down lower to the ground, which is important. Since you are trying to swing into the sand, and not the ball, you need to make sure you are down low enough to accomplish that goal. If you were to stand tall with your feet close together, it would be difficult to swing the club far enough into the sand to blast the ball out properly. Make sure to set your feet well apart and you will be off to a good start in the sand.
Plenty of knee flex. This is another key that is motivated by the need to get down close to the sand. When you flex your knees – along with keeping your feet far apart – you will lower the level of your entire body, making it easier to swing into the sand. One thing to pay attention to here is the fact that you need to maintain that knee flex all the way through the swing. It's good to start with your knees flexed, but that isn't going to do you much good if you give up on it partway through and allow yourself to stand up straight.
Open to the target. One of the most important elements to your bunker stance is that you need to stand open to the target. Yet again, this is where greenside bunker shots are different from most of the rest of what you do on the course. Most likely, you stand relatively square to the target line when hitting full shots, but that isn't going to be the most effective method here. Instead, open your stance dramatically, with your left foot much farther from the target line than your right. The benefit of this stance is that you'll be able to swing across the ball as the club moves through the sand. By swinging across the ball, you should be able to elevate the shot more quickly, helping you to escape the trap in a single swing. Also, the club will be less likely to dig down too deep into the sand.
That's it! Just three tips that will take you to a great bunker stance, as long as you can execute them correctly. You are going to need to keep your stance open to the target, your knees flexed, and your feet in a wide position. Take some time to practice this stance so it will come naturally when you are on the course.
Handling Poor Lies


If golf were an easy game, you would always draw a perfect lie in the sand when you find a greenside bunker with your approach shot. Of course, this is not an easy game – in fact, it's one of the hardest games in the world. That being the case, you are going to wind up with poor lies in the bunker relatively often, so you will have to develop a plan for how you can get out of these troublesome spots. It's never good news to see your ball in a bad position in a sand trap, but that doesn't mean you should just give up. By understanding how to approach various types of bad lies in the bunker, you can at least give yourself the opportunity to get out in a single swing.
Before we talk about specific types of bad lies, it should be said that you need to lower your expectations once you see that you have a bad lie. If the lie was good, you might be thinking about hitting a good shot up close to the hole for an easy putt. That would be great, but it's probably not going to happen when the lie is bad. In this type of situation, your sole focus should be getting the ball back onto the grass with just one shot. Plan your shot with the goal of getting out in just one swing and consider it a bonus if you happen to hit the ball close to the hole.
Let's take a look at three different kinds of poor lies you can draw in a greenside bunker –
Ball plugged in the sand. If the bunker you find features a lot of soft sand – and if your ball comes in on a high trajectory – there is a good chance the ball will wind up plugged down into the sand. What do we mean by 'plugged'? Basically, a significant portion of the ball is going to be down into the sand, rather than sitting on top. If roughly half the ball or more is under the top level of the sand, you can consider it to be plugged. If the lie is bad enough you might not be able to get out in one swing, despite your best efforts. However, if the lie is just marginal and the ball isn't too deep, it might be possible to dig it out successfully. The technique here is to keep your club face square to the target line while moving the ball back in your stance. You need to hit down sharply so you can cut through the sand and under the ball. If the ball does come out, it is probably going to come out low – so you might not be able to clear a tall bunker wall, but there isn't much you can do about that. Even an experienced golfer has relatively little control over this kind of shot, so you are basically swinging into the sand and hoping for the best. Strategically, consider aiming in whatever direction gives you the easiest path out of the trap, even if that means aiming away from the hole.
Ball sitting on hard sand. Sometimes, the condition of the bunker is what is going to be your enemy. If you are playing on a day after there has been heavy rain, or if the course you are playing just doesn't have much sand in the traps, you might find yourself with a hard-packed lie. That means there is very little sand under the ball, and whatever sand is under the ball is packed tightly. When that's the case, the typical explosion shot just isn't going to work – there isn't enough sand available to help the ball out of the trap. When you find this kind of lie, you need to shift your thinking and instead use the chipping technique that you would use on the grass. Pretend that your ball is on the grass, rather than in a sand trap, and try to chip it out. This is not an easy task, as you'll need to make perfect contact in order to pull it off. However, you don't really have any other good options, so muster up as much confidence as you can find and give it your best shot.
Ball on a steep slope. Often, the ball will roll down into the bottom of a bunker, providing you with a relatively flat lie for the next shot. Unfortunately, that isn't going to happen every time. On occasion, the ball will hang up on the side slope in a bunker, making for a challenging escape. The best thing you can do when the ball is on a steep slope in the sand is to respect that slope and only attempt shots that are actually feasible to pull off. Too many golfers just ignore the slope and aim right at the hole anyway. You can't do anything to change your lie, so the only thing you can do is be smart and pick a reasonable shot. You might need to play directly away from the hole in order to get out of the sand, or you might need to go out sideways. Whatever the case, respect the lie and be smart when deciding how to proceed.
As you gain experience in this game, you'll gradually pick up experience with various types of bad lies in the sand. Each time you hit a shot from a tough position, take note of what worked and what didn't. The accumulation of your experiences over time will help you make the right decisions moving forward.
Final Thoughts


In the minds of many golfers, bunkers aren't given the respect they deserve. These are hazards, but they are usually not feared in the same way as a water hazard or out of bounds stakes. When planning any shot, you should take care to locate the bunkers and make a plan that will keep your ball out of the sand. Hitting a shot into a greenside bunker might not require you to take a penalty shot like hitting into the water, but that shot might show up on your scorecard anyway by the time the hole is finished. It's good to have the skills to escape a greenside bunker in a single swing, but it's far better to have avoided that bunker entirely in the first place.
As a new golfer, you have a lot to learn. Don't look at that as a negative – instead, look at it as an opportunity to develop your skills and have fun playing this great game. We hope the advice in this article will help you get off to a good start as you develop your abilities in the greenside bunkers at your local course. It's best to keep your ball on the grass but finding a few bunkers along the way is an inevitable part of the golf. Thanks for reading and have fun out there!