There are more golf tips on the Internet than there are stars in the sky. The trick is finding the tips that will make your game shine.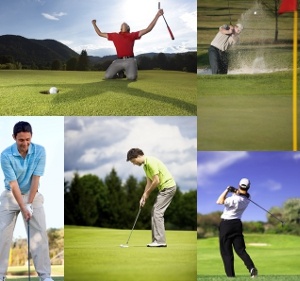 An Internet search for "golf tips" turns up more than 400 million results. Four. Hundred. Million. That's a big number. And a big headache if you're not sure exactly what you're looking for.

Consider Golf-Info-Guide.com your all-purpose pain reliever.

We're a one-stop shop of golf tips from Address to the Yips. In the sections listed on this page, you'll find helpful advice in text and video form, provided by respected teachers, on just about any golf topic you can name. Who do we help?
---
---
How To Play Golf Beginner Tips: This lesson section provides the fundamentals that all beginner golfers should know before hitting the links
Golf Workouts Your Health: Can playing golf make you healthier? You bet. This section examines the benefits spending time on the course.
Golf Drills Swing Tips: These simple drills are designed to instill correct fundamentals and help you fix swing flaws quickly.
Golf Coach Greatest Teachers: You can learn a lot by studying the instructors behind the game's top professionals. This series explores the methods employed by golf's famous swing gurus.
Golf U.S.A: In many ways, the U.S. is the center of the golf world. Read all about America's contributions to this ancient game.
Golf Exercises and Stretches: This section is full of videos to improve your game via flexibility, strength, balance, etc.
Mental Golf: Do you find golf frustrating? Nerve-wracking? Intimidating? These tips will help you overcome the game's toughest mental hazards.
Golf Magazine Online Golf Advice: Learn how to adapt to golf's many variables, including wind, tall grass and trees.
PGA Tour Players Pro Golfer Signature Move: This section features pros' that have a golf swing with at least one quirky element that defies convention.
Pro Golfers Signature Shots: How do the pros hit those amazing shots? This series reveals their secrets – and explains how to make these shots your own.
Pro Golfers Swing Sequence: Contrary to popular belief, not all pro golfers swing alike. These articles identify their individual secrets and tell you what to emulate – and what to avoid.
Senior Golf Tips and Video Lessons: Don't let age slow you down. This section features tips for senior golfers.
Golf Shots Swing Setups: This section features tips on aiming golf shots, addressing the ball, gripping the club, positioning the ball and other actions that take place before you swing.
Golf Alignment Sticks Training Swing Tips: This is a full dedicated category section on golf info guide called "Golf Alignment Rod Sticks" New Golf Tips and drills using so called alignment rods, tour sticks, or canes to help improve your golf game.
Golf Swing Tips: Read tips on coordinating your body, the club's positions during the swing, how to play specialty shots and more.
Play Better Golf by Watching the Pros: Which pros do it best, and – most importantly – how to apply their methods to your game.
Ladies Golf Video Lessons and Tips: More women than ever before are venturing into the world of amateur golf.
Bunker Golf Tips: Learn the basics of sand play, understand the rules governing bunkers and develop advanced skills with the lessons in this section.
Online Golf Questions and Answers: Golf can be a confounding game. We've got in-depth answers to the most common questions posed by everyday players.
Best Golf Techniques Tip Chart: Plenty of great golf techniques in this chart to pick from when you are trying to improve your golf game.
Equipment Choices: Everything you need to know when choosing your equipment.
Left Handed Golf Video Tips: Golf-Info-Guide.com presents golf video tips for left-handed golfers and learn how master the game of golf.
---
---
Beginners—We've got you covered with tutorials on swing fundamentals, the parts of a golf course, etiquette, how to dress when playing and more.
The fit and the infirm—Check out our sections on golf exercises and the game's health benefits.
Professional golf fans—Don't just watch the pros, learn from them in our Signature Move, Signature Shot and Pro Swing Sequence series.
Seniors—You'll find more than 200 golf tips devoted to the specific issues that come with the territory, such as decreased swing speed.
Ladies—We've teed up 200-plus topics just for you, including equipment advice and lessons to help you hit longer drives.
Lefties—You're no longer left out. Golf-Info-Guide.com offers dozens of tips geared specifically toward southpaws.
And that, folks, is just the tip (pun intended) of the iceberg.
Here's the funny thing about golf: It's a complicated game, but swing solutions are usually simple. At least, the way we explain them. For instance, do you know that your slice is likely curable by a basic change in weight shift? Or that escaping bunkers isn't nearly as hard as you think? Or that you can chase those mental demons by adopting a "process vs. outcome" approach?
All true, all explained in detail at Golf-Info-Guide.com.
Here's another thing about the world's greatest game: It's a never-ending education. If you don't learn something new about golf every day, you're not tapping the right resources. And you're definitely not visiting Golf-Info-Guide.com.
Want to know which U.S. states have the most golf courses? Curious how much money golf pours into the economy and charitable causes? Ever wonder how golf clubs and balls evolved over the centuries? You'll find those answers and more in our Golf USA department.
And who better to learn from than the finest instructors? We've got an entire section devoted to Golf's Greatest Teachers, like Harvey Penick, Jack Grout and Dave Pelz. Behind every great player there's a great coach – and studying their methods can have a major impact on your game, too.
We're especially proud of our Online Golf Questions and Answers category. Talk about simple. We take questions asked every day, by everyday golfers, and break down the right answers in easy-to-understand language. We even give you a few wrong answers to bolster your knowledge base.
Really, that's what Golf-Info-Guide.com is all about – helping you navigate the galaxy of tips, and choose the ones that will light up your game.