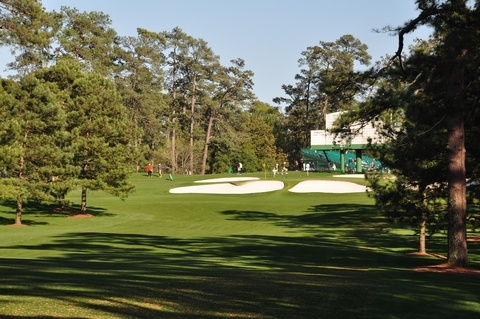 In Part II of this feature, we look at how professional golfers adjust their playing styles to fit the unique demands of Augusta National Golf Club during the Masters Tournament, and the course management tactics that help them survive this grueling test.
What to Watch
High and mighty: Augusta National's greens are kept extremely firm during the Masters, favoring approach shots that fly high and land softly. Likewise, drives that carry past upslopes or onto downslopes provide a distance boost over low, running tee shots. (That's one reason great low-trajectory players like Lee Trevino and Paul Azinger rarely contended at the Masters.)
Many golfers, like Tiger Woods, will tweak their swings before the tournament to hit the ball higher.
Danger zones: Watch how the pros play away from certain pin placements at Augusta. In particular, a flag on the left side of the 11th green, next to a large pond, and on the far right of the 12th green, mere feet from Rae's Creek. Rarely will a pro go "flag hunting" with these pins in play, instead aiming wide of trouble and taking their chances of two-putting or chipping close for par.
Gone with the wind: Augusta National is tough enough in benign conditions, but when the wind picks up the course becomes an absolute monster. That's because the wind gets re-routed by enormous pines lining fairways and circling greens; one minute it's blowing east, the next north, making club selection a nightmare on holes like No. 12, a devilish par 3 of just 155 yards.
What's more, the trees often block the wind where a player is standing, while it continues whipping around the green. You'll see the pros looking up at treetops or at the flags near the clubhouse, searching for signs of the wind's movement on high.
Short knockers, big hitters utilize their strengths: As a well-known bombers paradise, Augusta has been kind to long drivers over the years: Sam Snead, Arnold Palmer, Jack Nicklaus, Tiger Woods and Phil Mickelson won at least three green jackets apiece. But shorter-hitting tacticians have fared well too. Three-time champions Gary Player and Nick Faldo, plus recent winners Mike Weir and Zach Johnson, top this category.
Weaker golfers court trouble when they try to do too much, like attempting to hit their second shots over the pond on the par-5 15th hole. They're better off sticking to their strengths, such as accurate driving, sharp wedge play and deft chipping and putting. These skills improve their odds against field's big boys.
On the other hand, long hitters take advantage of their power, playing aggressively on the par 5 holes and on the course's only short par 4, No. 3. You'll see more risks taken from long range at Augusta than anywhere else on Tour.
Apply It to Your Game
You may never play Augusta National, and you'll almost certainly never qualify for the Masters. But you will encounter courses with fast, undulating greens, hilly fairways, plentiful hazards and tricky breezes. Here's how to squeeze out solid scores on difficult tracks:
Hit the ball higher: No major swing changes needed, just a simple setup change. Right-handed golfers, play the ball slightly farther left (forward) in your stance. For example, make sure it's opposite your left heel with the driver. If you typically address iron shots with the ball in the middle of your stance, place it between the middle and your left heel instead. Simply make your normal swing and the ball will sail with more loft.
Identify trouble, then avoid it: While any mental coach will tell you not to dwell on hazards, that doesn't mean you should ignore trouble. Before each shot, find the spot(s) to be avoided, determine a safe route around it, and focus on hitting your target.
Study the wind: Tossing some grass into the air tells you which way the wind is blowing where you're standing, but on tree-lined courses with swirling breezes, check treetops and flags to get a more complete picture.
Play your game: If you're a short hitter on a long course, don't try to compensate by swinging harder or taking big risks. Keep the ball in play and focus intently on shots inside 100 yards. Big hitters should take advantage of their length on par 5s and short par 4s, but be careful not to get greedy.
Part I of this feature discusses how Augusta National's famous greens impact play, and how the pros deal with the greens' incredible speed and slope.