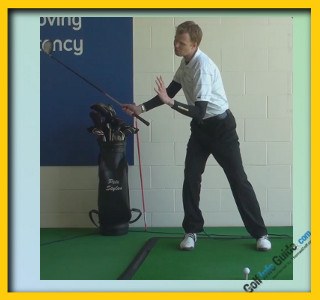 Who Is He?
---
Keegan Bradley has proved to be one of the major success stories in golf over the last few years. Not only due to his rise through the mini tour ranks to be a major champion, but also due to his slightly unorthodox routine and swing.
What He Does
---
There are two key moves to notice in Keegan Bradley's golf swing. Firstly, from the front on view, you can notice how at the top of the swing his legs have already started to drive forward towards the target in his downswing as his club and shoulders are still coiling to the top of the backswing. This looks like a very aggressive move that also creates an awful lot of power from his relatively slight frame.

The second most noticeable part of Keegan Bradley's golf swing is how he allows a significant amount of lateral head movement, particularly during the backswing phase, where his head can be seen to move three to four inches to the right in the backswing.
What Can You Learn?
---
Learning from Keegan Bradley's leg action should encourage you to start your downswing with your bottom half first. This creates a powerful downswing move and encourages you to get in front of the golf ball for better striking.
You can also learn that keeping your head still during the golf swing is fundamentally a flawed piece of advice. Allowing the head to move laterally is a positive thing and should be encouraged for most golfers.
What Should You Avoid?
---
As previously described, allowing your head to move laterally can be positive for your golf swing. However, be careful of any significant vertical rise or fall during your swing. This is often caused by an increasing or decreasing spine angle and will result in inconsistent striking of a golf ball, particularly tops and fats, hitting too high on the ball, or hitting too much into the ground.
Keegan Bradley plays golf with a very high tempo. His background as a ski racer means he is often very alert and somewhat fidgety during his routine. This works for some golfers but most would be advised to play with a slower tempo and a more relaxed controlled routine.