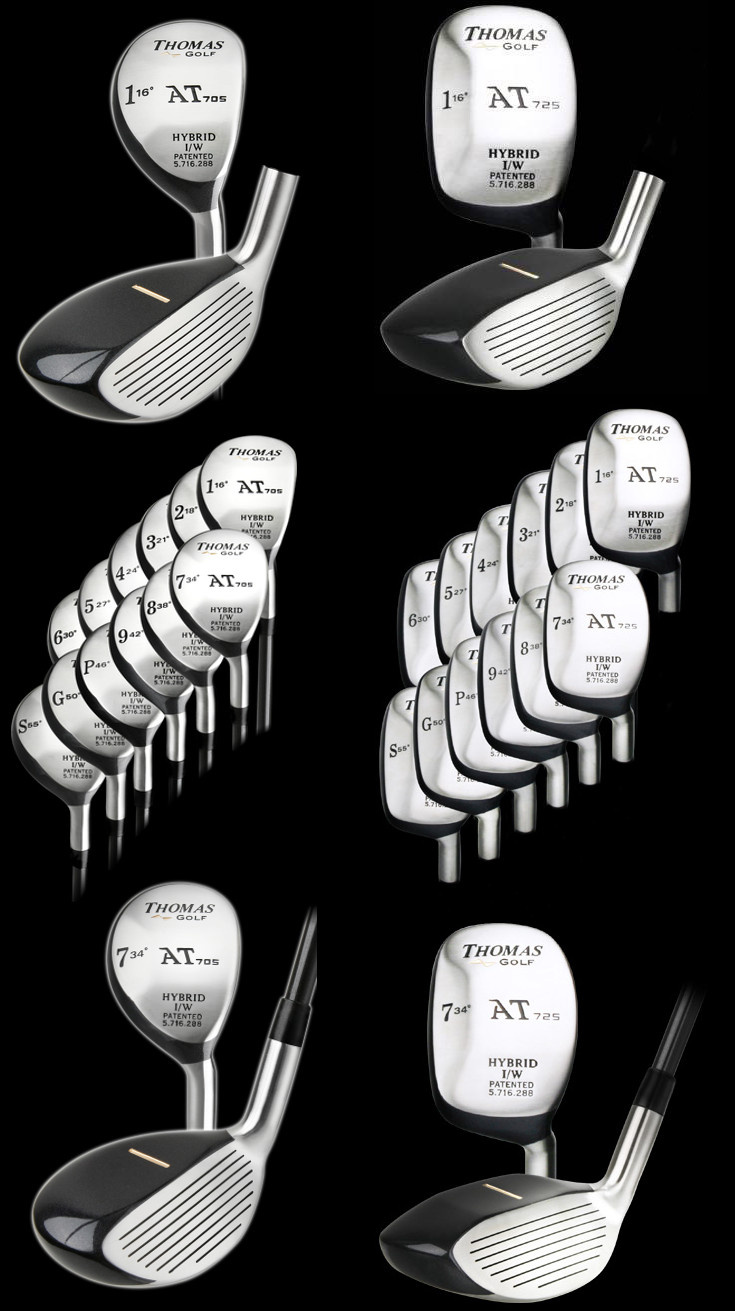 Just like the driver, sand wedge or putter, it's important for a hybrid club to look and feel right in your hands. Clubs with identical length, loft, lie and weight can produce markedly different results based on nothing more than the golfer's perception.
---
Thomas Golf's AT725 and <AT705 hybrids are a prime example of this phenomenon.
The AT725 features a rectangular clubhead that presents a solid, well-aligned look at address. It's also got a flat crown which accentuates the sensation of squareness. Many golfers find that this unique shape makes it much easier to align the clubface to the target, whereas the converging curves of more conventional, rounded clubheads can fool the eyes.
The Thomas Golf AT705 hybrid is more traditional, with a pear-shaped head that suits a wide range of players. Some golfers simply prefer clubs with a familiar appearance, often because that's what they've always used. Like the AT725, the AT705 is flat near the front part of the crown.
These two hybrid models have more similarities than differences. Both feature Thomas Golf's patented shot accuracy technology – a simple alignment guide on top of the club designed to help you correctly aim the clubface at the target.
The two models also share a flat crown, which transfers more energy to the ball and produces longer shots. The AT705 and AT 725 are made with the same materials and perimeter-weighting concepts, so they offer similar feel, sound, distance, accuracy and forgiveness on mishits.
The AT705 and AT725 lines include hybrids numbered 1 – 9 as well as a pitching wedge, gap wedge and sand wedge. (In addition, the AT725 lineup includes a 1+ hybrid, which has less loft than the standard 1-hybrid.) Lengths, lofts and lie angles are identical throughout both sets.
When faced with a choice of two comparable clubs, your best bet is to try both. Chances are, one will better fit your eye and deliver superior performance. In golf, a little extra confidence can go a very long way.