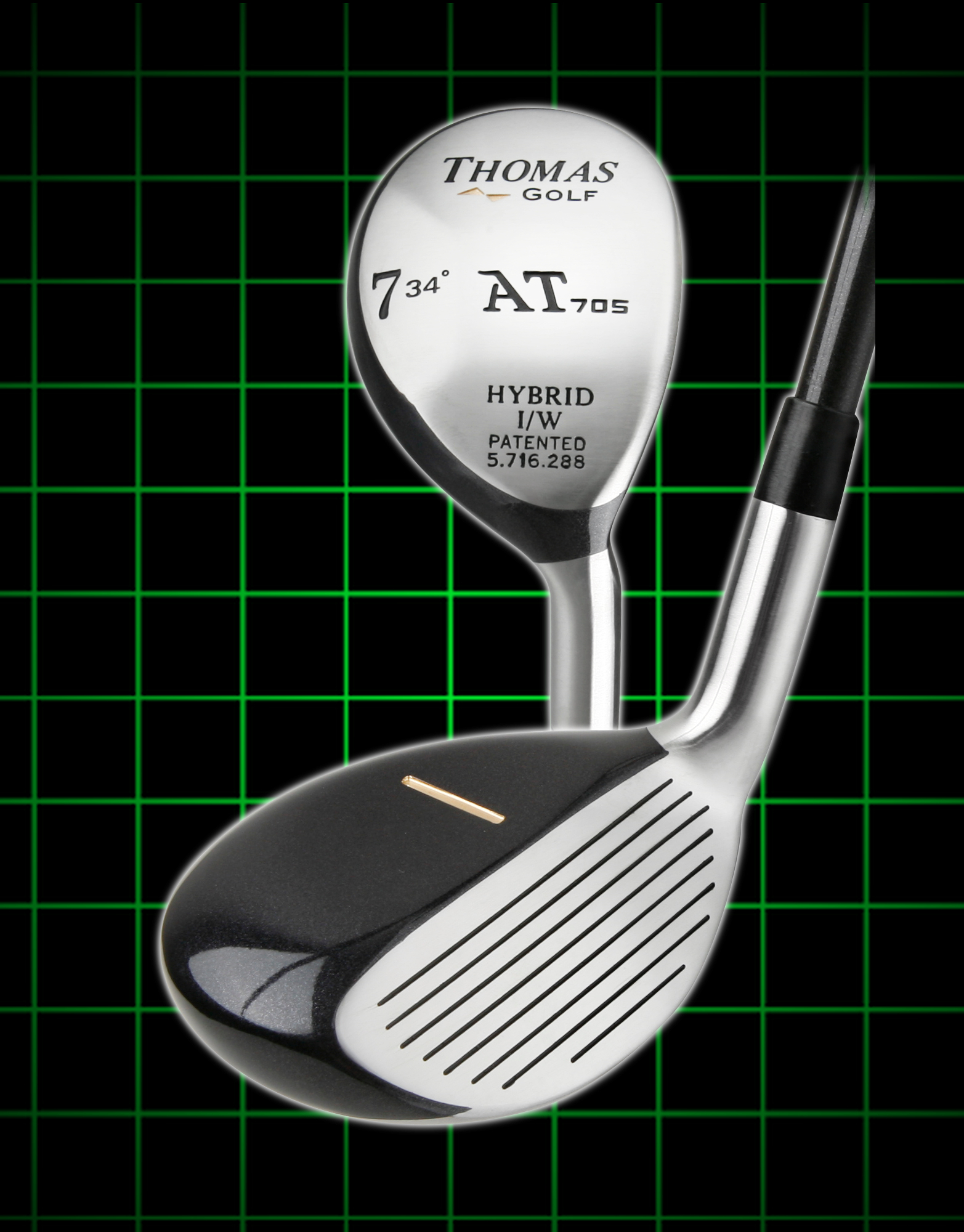 AT705 Hybrids (Ladies : Right Handed) Switch Hand
Ladies Hybrid Golf Clubs with pin-point accuracy via shot alignment system
Straighter shots via the correcting gear effect produced by the special face
Buy One or Full Set 1,2,3,4,5,6,7,8,9 PW,GW,SW,LW Free Hybrid Fitting
More power and accuracy from the unique flat crown very forgiving from heel to toe
$194

On Sale
AT705 Hybrids (Ladies : Right Handed)






Hybrids are a combination of an iron and wood, incorporating various features of each into one product to replace hard-to-hit traditional irons. These new custom Hybrid Irons offer significant advantages over traditional irons and, as a result, have experienced impressive growth in recent months throughout the golf industry. Hybrid irons provide the playability of a fairway wood coupled with the accuracy of an iron, giving even average golfers more airtime on the difficult long approach shots.

Hybrid Irons can be used on any lie where irons are used. The larger hollow head distributes more weight to the perimeter and sole, with the sole being much wider than an Iron, making the clubs much more forgiving and solid feeling. The larger top view with unique alignment indicator gives exceptionally more confidence than a traditional Iron.

The mass and dimensional characteristics also make these clubs much easier to get airborne, with better trajectory, more consistency, and at least the same, if not more, distance as a well struck iron.

Who should use Hybrids?

Hybrid Irons are also gaining great popularity as a solution for eliminating the difficult to hit long irons. Integrating Hybrid Irons into your set allows players to work the ball yet still benefit from forgiving Hybrid technology.

If any of the following apply, it's very likely Hybrid Irons will produce better golf shots and lower your score:

If you feel more confident hitting higher lofted fairway woods than irons.
If you seldom use your # 3, # 4, or even # 5 iron.
If you can get more distance from a 9-wood than a 5-iron.
If you seldom take a divot when hitting your middle irons.
If you have ever considered carrying woods like a # 11 or # 13.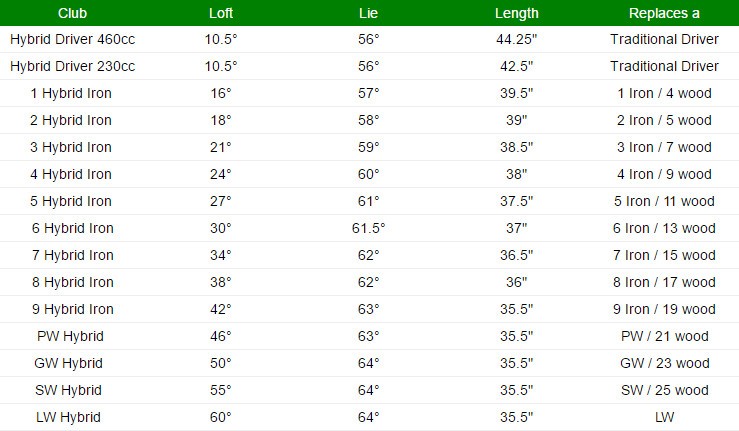 This table provides detailed information about the shafts and grips you may choose from when you build your custom clubs by clicking the "Buy" button above.
SHAFTS


Ladies Champagne Graphite Shafts
THOMAS Frequency & Flex Matched tour-grade Ladies shafts made of premium super high modulus graphite fibers provide a light weight of 70 grams for increased swing speed, while maintaining a low torque of 4.5° to reduce head twisting and lagging at impact, resulting in increased shot accuracy. THOMAS shafts are seamless and have been specifically designed to match and optimize the performance of THOMAS heads for alignment accuracy and ball flight. Specialized Low Kick-Point to assist in achieving higher shot trajectory, while maintaining optimum shot control. Each shaft undergoes extensive testing including Bend Stressing and Frequency Calibration ensuring integrity and consistency from shaft to shaft.
---
---
GRIPS


TG-Pro Grips (Small, Standard, Mid-sized)
This newly engineered compound provides the optimum balance of comfort, control, traction and shock absorption.
Distinctive gold-filled hand placement guide for consistent gripping and accurate club alignment will contribute to greater shot accuracy.
Specially designed multi-tread patterns provide exceptional traction and surface feel in each section of the grip.
---
---


TG-Pro Grips (Oversized)
This newly engineered compound provides the optimum balance of comfort, control, traction and shock absorption.
Paint-filled hand placement reference markers for consistent gripping and accurate club alignment to aid in shot accuracy.
Specially designed tread pattern provides exceptional traction and surface feel.
For additional shaft questions Click Here to be Custom Fitted by a professional club builder.


Test results by an independent research study at the University of Central Florida
Players did not have any previous experience with Thomas Golf clubs, and were not informed as to the purpose of the club's design.
Handicap breakdown: Low = scratch-5 Mid = 6-12 High = 13+