Issues Associated With Hitting Up On Golf Drives
(Video)
- by Peter Finch
---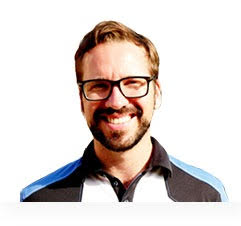 Pete Finch – PGA Teaching Pro
Unfortunately with most things that are issues associated with hitting golf on the ball, if it wasn't the case then everyone will be doing it all the time the easy. Unfortunately that is not quite the case. As you know, if you have watched any of the long drive guys who I have spoken about. They can hit the ball incredibly long distances, but during that competition they only need to hit one fairway, how about every 10 shots or so, it's a very low number and those fairways are quite wide as well. For the average golfer that's not going to cross it, if you are in the rough or if you are in the trees all the time, your score is going to suffer. So hitting up on the ball with the maximum amount of speed, yes it can give the best distance to your drives. But it's not going to equal accuracy and it's also going to start to change the path that your club is taking into the ball.
If you have a ball position with your driver which is teed up very, very high and it's outside the left foot, so to give you the best chance of really staying behind and really hitting up on the ball, what will happen is it's hard to move on a nice straight path into impact like that. So what's generally going to happen with that ball position to far forward is its really going to start some move the club out to wind to going searching of it. You can actually have a ball position which is a long way forward and a path which is a long way out to wind, and as a path moves more out to wind, it actually starts to hit downwards more. It can cancel each other out and lead to horrible golf shots.
Also another big issue that you have is if you are managing to move the club more inside, and this is something that you see with the likes of Rory Mcllroy as moving down into impact and moving that club from more of an inside position, staying behind and hitting up, if the club moves a little bit too far from the inside, it's hard to get the club dynamics to get the ball straight. It's hard to get the club face lined up and that's why you see a lot of people who stay behind swing from the inside, tend to hit those hooks because they are staying in behind, they are moving up to impact, to try and get back club face square is very, very difficult.
As always with everything in the golf swing, it is a matter of making the checks and the balances, going too far that one road, can lead to problems, however if you do want to hit more upon the driver, it is something which is well worth practicing, because it will give you that more distance and it will give you consistency if done correctly, just maybe don't try 600 yards like the long drive guys.