Will A Longer Back Swing Help Me Hit My Golf Drives Further
(Video)
- by Peter Finch
---
In golf, there is always the desire to hit longer drives.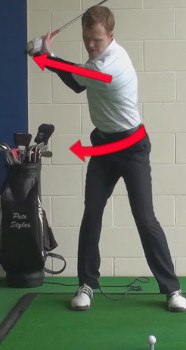 It really doesn't matter who you are – from a total beginner to an experienced pro – the prospect of adding a few yards to your drives is always appealing. Even though most golfers understand that distance is far from the only important thing to consider when building a game, they still can't help themselves from trying to chase down every yard possible.
If you find yourself in the category of trying to find as many yards as you can off the tee, you may have thought about lengthening your backswing. Some golfers seem to believe that a longer backswing will help produce longer drives – but is that really the case? We are going to dive into this topic in the content below.
Before we get into this topic, we do want to emphasize the fact that you shouldn't be focused on distance alone while trying to improve on the course. There are plenty of other things you can work on which will be just as valuable as added distance. For instance, improving your short game is always a powerful way to lower your scores, as is working on the ability to control trajectory with your irons. If you wind up solely focused on trying to hit the ball as far as you can, it's almost certain that other parts of your game are going to suffer in a big way.
All of the content below is based on a right-handed golfer. If you happen to play left handed, please take a moment to reverse the directions as necessary.
The Pros and Cons

As you get into the process of working on your golf swing, you will quickly learn that there are pros and cons associated with just about every change you make. When you alter your swing in one way to get better, you will likely have to give something up at the same time. It's up to you to decide when the pros are valuable enough to warrant the cons. If you can consistently make good decisions on changes that take you in the right direction, your game will progress steadily into the future.
Getting back to the topic at hand of a longer backswing, what are the pros and cons here? What do you stand to gain, and what might you lose? We are going to take a look at this subject in the points below.
Pro – More room to accelerate the club. The basic idea behind using a longer backswing is that you are going to have more room to accelerate the club from the top of the swing down to impact. The club has to change directions at the top of the swing, so none of the momentum from the backswing is actually carried forward into the downswing. That means you only have from the top of the swing down to the point of contact to pick up as much speed as you can muster. If the distance between your club and the ball is greater at the top as the result of a longer backswing, you will have more time to pick up speed before making contact. If you can use proper mechanics to take advantage of this added space, you should be able to produce a higher swing speed – and longer overall drives as a result.
Con – Risk of losing your balance. Perhaps the biggest drawback of a longer backswing is the negative impact it can have on your balance. As the club keeps going back, a couple of things could happen that would compromise your balance. First, you may get pulled onto your right side as a result of the big turn, and you'd need to slide back to the left at some point during the downswing to recover. Or, on the other hand, you could wind up with what is known as a reverse pivot. In a reverse pivot, the player leans to the left while swinging back to the right, and any semblance of balance is completely lost. The player will usually need to move back to the right in the downswing just to remain standing up, and the end result will be a weak, inaccurate swing. If you do decide to work on making a longer backswing, be sure to carefully monitor your balance all along the way.
Pro – Get into a rhythm. For some players, making a longer backswing is a great way to develop a rhythm in the golf swing. It can be hard to build a nice tempo when you make only a short turn away from the ball. Simply by lengthening that turn, you might be able to smooth things out and make a clean transition from backswing to downswing. There is no guarantee that it will work out for you this way, of course, but do keep this in mind as a possible benefit. Good rhythm is incredibly important on the course golf, and a longer swing might be the way to help you improve on this key.
Con – Poor quality of contact. Earlier, we mentioned that making a longer backswing may be able to help you produce great swing speed through the hitting area. That remains true, but it can come at a cost. For some golfers, the longer backswing is going to make it harder to achieve quality contact at impact – and quality contact is essential if you are going to hit your targets and shoot low scores. It takes quality technique and plenty of hand-eye coordination to be able to make clean contact while using a long backswing. Remember, any added swing speed that you do pick up will be wasted if you aren't striking the ball near the middle of the face with most of your swings. Only stick with the longer backswing if it is able to provide you with extra speed while not harming your quality of contact.
Pro – Hold up under pressure. Believe it or not, you might find that you are better able to perform under pressure when you use a long backswing. Those with a short backswing tend to get a little too mechanical with their swings (in some cases) and trying to execute precise mechanics while nervous is always difficult. By lengthening your swing to some degree, you might find that the rhythm which is created helps to carry you through tight times on the course. It's never easy to play shots under pressure, but a slightly longer swing could improve your performance when the nerves kick in.
There are certainly some things to like about making a longer swing with your driver, but this technique is not without its faults. Deciding whether or not a longer backswing will pay off for you is going to come down to a number of factors. How long is your current backswing? Do you really need to add distance, or is your driving performance acceptable as-is? What do the results look like once you lengthen your backswing on the range? It doesn't matter much if this technique works out well for any other golfer – it just matters if it works for you. Give it some thought and then give it a try on the range if you feel like this is something which could push your game in the right direction.
Evaluating Your Current Backswing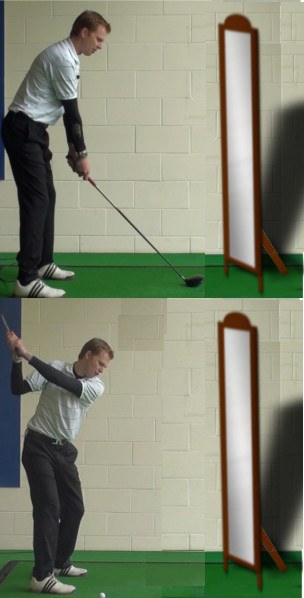 If you already have a long backswing, it would be a mistake to attempt to make it even longer. Lengthening the backswing is only an option that is likely to yield positive results for someone who currently has a short backswing, or at least one which would be considered 'average' length. So, before you even think about working on making a longer backswing, the first step is to assess the current state of your turn away from the ball.
Unfortunately, it can be tough to check on your backswing when you are the one making the swing. It's hard to see the positions you are reaching from your perspective, so you'll need some help in one way or another. The first option to explore is looking for a mirror that may be present around the driving range where you practice. Many ranges offer a full-length mirror somewhere in the practice area, so golfers can see the positions they are using. If you do have access to a mirror at your range, you can check on the state of your backswing in just a matter of moments. Simply stand in front of the mirror – far away enough to swing safely, of course – and make a swing with your driver. At the top of the swing, pause and hold your position. Then, look up into the mirror and see how far back you have gone. If you have made a big shoulder turn and the club is at least parallel to the ground, you can be confident that your backswing doesn't need to be any longer. However, if your shoulders don't seem to have turned very far, or if the club shaft is nowhere near parallel, there may be room for improvement.
When you can't find a mirror, there are still other options available to you. One of the best options may be resting in your pocket at the moment. Assuming you have a smart phone, you can use that phone to record a video of your swing. Ask a friend to record a video of you making a few swings, and then watch the swings back to check on the length of your backswing. You should even be able to pause the video at the top of your swing for a perfect look. Employing this method should only take you a few minutes from start to finish, and you can pick up all the information you need to move forward with confidence.
Finally, if you decide that the previous two options are not going to work for one reason or another, you could turn to the teaching professional at your local course for assistance. Consider scheduling a lesson and ask the pro specifically to monitor the length of your backswing. Not only will the pro be able to tell you how far back you are swinging, but he or she will also be able to provide input on whether or not it would be a good idea to make it longer.
You never want to make decisions about the future of your golf swing without first assessing where you are at the moment. In this case, that means figuring out how long your backswing is now, so you can decide if making it longer would lead to improvement. Take some time to analyze your driver backswing and then make a plan to move forward with confidence.
Options for a Bigger Turn

For the purposes of this section, we are going to assume that you have decided to go ahead and work on making a bigger turn. If that is the case, you are going to arrive at an obvious question – how do I make that happen? What is it that is going to allow you to turn farther back before changing directions and heading into the downswing? There are a few options you can consider here, and we are going to walk through them below.
Before getting into our list, we need to say that not all of these options are going to work for each and every player. It will be up to you to think about your swing, think about your game in general, and decide which (if any) to pursue. It's great to pick up advice from an article such as this, but ultimately the responsibility for improving your game is going to fall on your shoulders.
With that said, let's examine three options for making a bigger turn with the driver.
Giving yourself more time. For some golfers, making a bigger turn may be as simple as just taking more time in the backswing. If you are always in a rush to get your swing over with, you may be cutting it off prematurely. Simply by telling yourself to take more time, you may find that the swing naturally winds up following a longer path. Of course, it isn't going to be easy to force yourself to take that extra time, as the tempo and rhythm that you use in your swing currently will be hard to change. Be patient with yourself on the range and focus on taking more time in your swing until doing so starts to feel natural.
Turning your right foot away from the target. This might be the most common method for adding length to the backswing. Simply by turning your right foot away from the target a bit at address, you can open up your right side and make it easier to turn back. This is a good option for those who feel that their current backswing is limited by a lack of flexibility. When you keep that right foot square (perpendicular to the target line), your right knee is naturally going to 'fight back' a little bit against your desire to turn to the right. With the right foot turned open, the right knee won't provide as much resistance and you should find it easier to rotate. Of course, there is a potential downside to think about here – the possibility that you will slide your weight away from the target. If you do go with this option, be sure to pay close attention to your balance so you can avoid letting your weight drift onto your right side during the backswing.
Improving your level of fitness. At some point, you will be turning as far back as your body is capable of turning while still maintaining solid technique. If you are going to add even more turn from that point, it might be necessary to improve your overall level of physical fitness. Improving your flexibility should permit you to get farther into the backswing while still keeping your technique and balance under control. Of course, if you do decide to pursue improved fitness as an option for lengthening your turn, be sure to get approval from your doctor before starting up with any fitness regimen.
Learning to turn back even a little farther with your driver is likely to prove a bigger challenge than you expected at first. If you go into this process with the expectation of prompt results, you will almost certainly wind up disappointed. Be patient with yourself and with the process, and plan on seeing it through for the long haul.
Hitting More Fairways

The focus of this article has been on lengthening your backswing as a way to hit longer drives. That's all well and good, but those longer drives simply aren't going to help you shoot lower scores unless you keep them in the fairway. So, with that in mind, we are going to finish up the article by offering a few points on how to hit more fairways from round to round. As these are strategic points rather than mechanical ones, you may be able to find success with these tips on your very next trip to the links.
Stick with one ball flight. Unless you are an extremely skilled golfer, it is a good idea to stick with just one ball flight for all of your drives. If you naturally play a draw, go with that draw unless there is simply no way to make it work on a given hole. Likewise, players who favor a fade should trust that fade at every opportunity. It's simply too difficult to fade and draw your driver on command, unless you play at a high level and practice your game on a near-daily basis. By going with just one ball flight, you will have more clarity on the tee as you'll know exactly what you are trying to do with each swing. Also, you will get more familiar with that ball flight, and you will be better able to anticipate how much it is going to curve in the air.
Make sure driver is the right club. Sometimes, when golfers think their driver is letting them down, it's actually that they are using the driver on holes where it is not appropriate. Most likely, the course you are playing is not going to call for tee shots to be played with a driver on each and every par four and five. The typical course will include at least a couple holes where it is better to leave the driver in the bag. Don't try to force the action on a hole where your driver really doesn't fit – respect the design of the course and use a club that makes sense for each specific tee shot.
Forget about maximizing distance on the course. It's fine to work on hitting your driver farther while you practice. However, you don't want to take that mindset with you onto the golf course. If you make it a point to hit your drives as hard as you can when playing a round, the results aren't going to be pretty. Trust that the work you have done in practice will lead to plenty of distance and focus solely on accuracy while playing your tee shots on the course.
It's far from a guarantee that lengthening your backswing is going to pay off in the form of longer drives. In fact, for many golfers, this plan is not going to work out. There are very real drawbacks to consider, and you may find that in the end, it just isn't worth it to make your swing longer in the pursuit of a few extra yards. If you do want to try, however, remember to be patient and watch for signs of progress along the way. With any luck, you'll find those yards you were looking for, and you won't lose any accuracy. Have fun out there!
Will a longer back swing help me hit my golf drives further? Now when you're actually looking to tap new resources of power within your swing, the back swing can be a rich kind of picking and a rich kind of ground to actually mine on, because there are lots of different things you can do to start generating more turn and more power. If you think about the players who hit the ball a long way, your Bubba Watsons and your kind of John Dalys; their back swing lengths are very very very long. What you tend to want to see, is a club shaft to be putting much parallel with the ground at the top of the back swing. But Watson and Daly, they get their shaft all the way into this position here. Now effectively what they do, from this position here where that club shaft is, they have a lot more room and a lot more time to actually generate more power down into the ball. If you have a club shaft which is just parallel to the ground, you have less time and less room to develop power.
However with this position, they're just going to trade off. It's less accuracy and less consistency. What you'll tend to find is that you want to generate more power you need a big shoulder turn; you need a big hip turn through. And it's probably best getting that club shaft to parallel with the ground. If you can get to that point, it's going to give the best kind of trade off between distance, power and control. However, if you do want to eke out a few more yards, give the extra a long back swing a go. What you'll tend to find, is the inaccuracy will increase, however, your club head speed will improve. So club head speed certainly improves distance certainly improves as well. But that shot had a lot more shape on it than I'm used to.
So, if you want to give it a go, by all means try and increase the actual back swing length. But most people will kind of benefit from having that shaft at parallel to the ground at the top of the swing.