What is a Stack and Tilt Golf Swing - Golf Swing Tip for Women
(Video)
- by Natalie Adams
---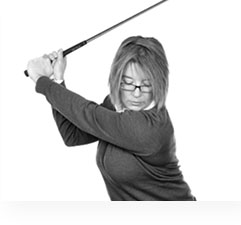 Natalie Adams – PGA Teaching Pro
During this swing tip video we're going to have a look at what a stack and tilt golf swing is for a lady golfer and the key elements of it. Now stack and tilt isn't a swing method for everyone. It's a very new concept, it doesn't mean it's incorrect but it will seem to contradict a lot of traditional, more traditional ways of teaching a golf swing. So it doesn't suit everyone however there are a lot of people using it and it does have value depending on what issues you have in your golf swing.
So let's have a look at the main components of a stack and tilt golf swing so that you understand what one is one. In a traditional golf swing you would set up with your weight really, really even. In a stack and tilt golf swing you've actually set up with more weight on your left side if you're a right handed player. So you'd already be leaning in onto your left side with a good 55% of your weight on this left side. Now in a traditional golf swing as you swing back your weight rotates onto your right foot. A stack and tilt golf swing sees completely opposite happening. So from that weight position of being 55% on your left side as you swing the club back as you approach the top of the backswing you've actually increased the weight on your left foot up to about 60, 65%. So again for the first characteristic of stack and tilt golf swing it seems to completely contradict a traditional way of teaching. However this method will reduce any sway. So if you're somebody who struggles with sway on the backswing you see that you're moving over to the right if you incorporated a stack and tilt type of feature into the backswing there you should find it creates a lot more stability in your head position.
The second characteristic for stack and tilt golf swing is that during your backswing your left shoulder on a traditional swing would move inwardly and around to the right. So we'd see this kind of movement in your shoulders. Whereas the stack and tilt we see that the left shoulder actually moving downwards. So this is more of the correct movement for stack and tilt swing. So the left shoulder moves in a more downward way rather than in an inward and a round way. Again the main reason for this is it helps to create head stability. So if you're somebody that struggles to maintain your head high through your swing incorporating this into your more traditional swing, so if you see that you tend to lift up by making more of a downward movement with that shoulder, it would start to help you maintain your head heights. So the first two valuable parts for stack and tilt lasting to totally contradict a traditional way of teaching.
That doesn't change for the third characteristic of the stack and tilt golf swing. As we set up in a traditional swing we're going to work on keeping the flex in your right leg all the way through the backswing and then just squatting down slightly and then exploding up and straightening the leg slightly as you hit and follow through. A stack and tilt golf swing has you straightening your right leg position. So as you swing back you place more weight onto your left, drop your left shoulder and the right leg straightens back. And that will now allow you to get your hands more in.
So again the fourth characteristic here is as we're straightening this leg and creating more turn in the hips, for a traditional swing we'd look at this type of hand position where the hands are opposite the middle of the chest when they're chest high but on a stack and tilt swing method we'd be looking at pulling the hands in more so the hands are now maybe looking at going through the lower bicep for stack and tilt method.
So again all four of these characteristics now really contradicting what a traditional swing would want you to do. As you swing back down into the golf shot now, so we're in this position now with our stack and tilt swing and as we swing down we're going to restraighten the right knee which again starts to look a little bit more like a traditional swing and as you swing through in part both of the arms become straight. With a traditional swing you'd really work on having a straight left arm but I think more players are starting to see this type of position at impact and especially through impact as we swing through.
Now finally with a stack and tilt golf swing again another major difference between this and your traditional golf swing on your follow through, as you follow through with your traditional golf swing you're really rotating the hips and maintaining quite a level position with your belt. On a stack and tilt golf swing your hips actually tuck under your torso. So as you swing it in you've got into impact in this position here and then as you swing through rather than rotating and the hips staying still, you want to get the feeling that you're lifting the belt up and really tucking your back side under your torso, really tuck the hips in.
So very, very different swing method using stack and tilt, there are reasons why you'd want to maybe incorporate it into your swing or move more towards that method but if you've not tried it before you now understand what a stack and tilt method, how different it is from a normal golf swing. I think the best thing to do would be maybe try to incorporate some of those characteristics into your own golf swing to see how you go, but I'd highly advice you to go and see a local PGA professional who can advice you further on which method is going to suit you the most.