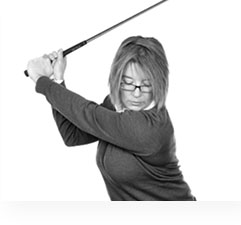 If you're looking for an effective, simple yet enjoyable golf tuition to improve your stats/skills or to simply start from scratch, check out Natalie Adams' golf academy. Natalie Adams is an accomplished golf teacher which can help you reach your full potential by providing comprehensive golf lessons, and help you achieve your goals by developing a customized program, which is specifically designed to suit your unique needs.
Natalie Adams' golf academy will blow your mind, as it will take you beyond the realms of possible, and with each lesson, you'll learn how to achieve the perfect swing technically speaking, or how to take fewer shots around the green, how to hit longer and more consistent shots, but also how to improve your attitude towards the game itself, for enjoying the game more, while lowering your score.
If you choose to start golf lessons with Natalie, you'll first set up an online account, where you'll be able to store all of your lessons for further review, i.e. you'll get a digital locker of sorts, which will allow you to play golf-videos and voice, i.e. you'll get instant access to your golf lessons anytime anywhere, using your smartphone or laptop. Basically, at a flick of a switch, you'll be able to take a look at a sample lesson, courtesy of V1 Professional Golf software and latest-gen high-speed//high-res digital cameras which capture all your moves. Every lesson is recorded then thoroughly analyzed, compared, viewed and then loaded into your digital account in the Natalie Adams Online Academy.
And in case you were wondering, Natalie Adams is a Level 3 PGA golf-pro, with over fifteen years of golf experience under her belt, a decade and a half spent training and coaching golfers. As per accolades, Natalie boasts a Development Coach for Cheshire and also Director of Coaching for Staffordshire County Golf Partnership.
You can reach the Natalie Adams Online Academy at the following address:
Natalie Adams Ltd
Registered in England & Wales
Company Number 06254784
3 Churchyardside
Nantwich
Cheshire
CW5 5DE