Cause and Cure, Women Golf Tip - To Get Correct Ball Height You Need to Hit Down
(Video)
- by Natalie Adams
---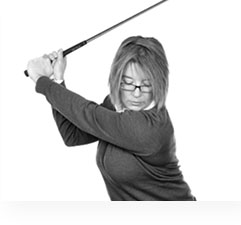 Natalie Adams – PGA Teaching Pro
If you're looking to get a better trajectory for your golf shots, this is going to be a great tip to help you. The main difference between low handicap golfers who are professionals and high handicap golfers is low and professional golfers tend to hit down on the ball. The main thing that that means is that when a low handicap golfer or a professional swing to the top, as they swing back in, the club is making a downward strike into the ball. So it's striking the ball and then will strike the ground.
This comes from the hands leading through and seeing this sort of position at impact. High handicap golfers seem to feel that's counter intuitive and tend you help the ball go up in the air. That impact position looks much more like this; they're trying to get under the ball. But the ball's already on the ground and its going to be very difficult to get the club under the ball and, make an upward movement to help the ball go up into the air.
If that happens, either you're going to hit the ground first and take a really big divot to get under the ball and then up or you're going to skin the club over the top of the ground and catch the ball on your up swing, which is going to make you hit the top of the ball and fend the ball. So to encourage you to get better height on your shots, learn to hit down and strike down on the ball as a low handicapped golfer or a professional would do.
That means into impact, leading with the hands, strike the ball, and then strike the turf. So strike the turf on the left of the ball; it's going t o give you much more accuracy and much longer shots because the club head speed will remain high during the shots. So hands leading through impact, it's going to create you a really nice penetrating ball flight, but you're not struggling to get height onto the shot. The loft of the club is going to do the work for you and it's that angle that better players use to generate height.