Make the Most of your Golf Practice
(Video)
- by Rick Shiels
---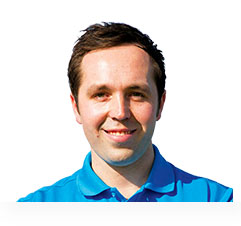 Rick Shiels – PGA Teaching Pro
So, if I was to practice, which basket of golf balls are going to make me a better golfer? If I hit 100, 150 golf balls aimlessly, just hitting them, whacking them, hitting them mostly with the driver, my favorite club in the bag, is that going to improve me? Or will hitting 25-50 golf balls with clear instruction plans make me a better golfer? I think this one. So make sure that when you practice you think about your sessions and you have practice your full…or you practice your improvements making sure that you either do plenty of practice drills so if you've got a certain area in your game that you think "You know what, I really need to work on that slice" well think about it. Get into a mirror, get to a good drive range where they got mirrors at the back so you can practice working on your swing, go and see your coach, make sure you have a clear practice plan.
Take a journal with you. So when you've practiced, do take your golf logbook with you so you can write down everything that you're thinking about and everything you were looking at improving on. So that when you do practice, you are not just doing this aimlessly. Put some competitions in there. Try and beat it time after time after time again. So, a good way of doing that is making sure that you break your practice session into smaller bite sized proportions. So you've got to think about your practice session as being maybe, hit three shots as a warm up. So you are hitting three shots just to loosen your arms a little bit, just to get you in the right frame of mind or a small percentage of shots. Hit your next percentage of shots, working on a certain technique.
So you are thinking, "I've really got to get my grip right, so I am going to make sure I get my grip spot on today and really work on technical aspects of my golf swing, getting the whole lot homed in" to get the best out of your golf swing. Then your next section of golf balls can be a little bit more of a shaping shot. So try and hit balls from left to right, right to left. Try and hit them low, high, have a bit of fun with the practice as well; it does need to be fun and enjoyable. So when you're setting up, I am going to go, "well, I am going to hit this one high with a fade, outside 150 marker, oh yeah that's the shot" and then you last there, challenge yourself.
Set tasks, set games, go right, even if you've got a friend that's playing with you, okay I'll have your competition closest to that orange flag, right, I'll rather go with that. Okay." And again it's a bit of competitive edge; I want to beat my mate. I want to make sure I'm better than him. Log all this stuff down as well so you're making sure that when you practice you've got a clear prop plan. Split your basket, however how many golf balls there is, into four sections, a bit of warm up, a bit of technical stuff, shape in the golf ball and then having a few challenges. And do different aspects of your game as well. You are chipping, you are putting, you are pitching, full swing, drivers, really break up your practice session to get the most out of it.