How to Stop Fatting my Golf Iron Shots
(Video)
- by Rick Shiels
---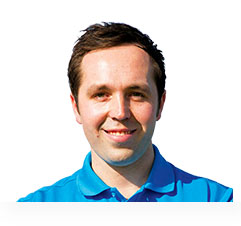 Rick Shiels – PGA Teaching Pro
You're on the golf course, you've got to get over some water or trees or a hazard and what you do, you end up fatting it. You end up hitting about 3 or 4 inches behind the golf ball, you get a face full of mud and the golf ball goes about 50 yards, not ideal. You end up dunking in the water and you end up becoming very unhappy with yourself. So I will give you a drill today to get you hitting the ball sweeter and stop you fatting it almost instantly. The fat shot; it comes from a couple of things really. One of the things is the fact the player will almost lean back try and scoop behind the golf ball not particularly transfer the weight to create the power, the strike that we want to hit certainly when it's over hazardous while you tend to find the playable drive lift it and scoop it or end up hitting way behind the intended–intended strike position and end up getting a face full of mud. So simple drill, what I would like you to do is set up to the golf ball as you would do normally. Make sure your ball position with the mid iron is kind of drifting from the senses, as the seven iron adjusting from the center.
And what I'm going to do is I'm actually going to push the ball forward. It is only a drill by the way. I'm going to put the club back, now my mission is to strike that golf ball correctly. I'm in the middle, I'm going to get to the top and I'm going to transfer my weight and strike that golf ball correctly, so I'll go through that one more time. Club it, ball in the middle, move the club ball up, at 3 or 4 inches, put the club back down and then hit. And you can see that I've transferred my weight a lot better. I've gone to my left hand side and that's gone nice and high. It's got over the hazard it's hit the green. So one more time, set up push it forward, stretch and hit–perfect!
Now once you've got the hang of that and you feel more confident with that, pull the ball position back to where it was. But in your head, you're going to imagine the golf ball is here. So your–where you've just been practicing from that is exactly where the golf ball is. So set up right in the middle but everything in your head is telling you the golf ball is there. Oh that's perfect, that's the best strike I've hit all day. Got that, oh it's given a go, or it's happening know how you want it sort of a set up and so I used to think why do I need feedback?