How to Release the Golf Club Correctly
(Video)
- by Rick Shiels
---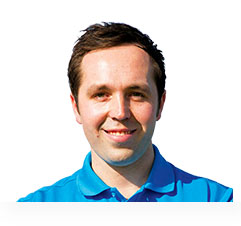 Rick Shiels – PGA Teaching Pro
Releasing the golf club. Creating more power with less effort and getting you hitting the ball a lot straighter because you are going to be squaring your golf club more. I'm going to give you a really simple drill to practice, to rehearse and to get on that golf course and to help you either create the shots that you have always wanted to hit and kind of get rid of some of the myths that are out there a little bit at the moment.
So what I have got here now, I have got my driver and I have just got my alignment stick resting up against the shaft of it, so you can see it's almost indicating where the butt-end of the shaft is pointed. So let just set up, let's set up as we would do normally. So I'm just holding the back end of the club there. As I swing back and through, this big thing that we want to try and work on is making sure that we release the golf club correctly through the impact area and it's not just a matter of turning the hands and almost rolling it over, it's a little bit of inconsistency, we want a little more consistency when we do this. So a couple of thing we are going to do is; we are going to release, cross over and stretch. I'm going to show you how to do that. Once you've come down and once you start to feel like your right arm is going to overtake your left arm, the right arm straightens and the left arm folds. Now the important bit of why I have got this alignment stick in the club, is this your point directly back down towards the tee peg that we have just been hitting from or if it's with an iron from where we have just been hitting it from.
So as we come through, the right arm stretches, crosses over and the alignment stick points straight at the golf ball. If I just put that away, all is left is just popped a normal tee peg in the bottom of the golf club there. When you practice you can now do real swings, cross and the idea is get tee peg to tee peg, tee peg to tee peg. So as we come in to hit, we are going to right arm over left, tee peg to tee peg and let that club just release and travel through the golf ball creating a lot more power. So if I just hit a–almost a restricted follow through hit, if I just hit this one, you can see there how that is starting to point straight back down towards where the golf ball was and I can then turn into a much fuller finish. That's releasing the golf club sorted, I want you to give that a go next time you play and you will hit the ball much, much better.