How to Stop Topping the Golf Ball,
(Video)
- by Rick Shiels
---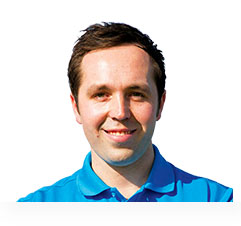 Rick Shiels – PGA Teaching Pro
Right, I'm going to set the scene. You've just hit your Sunday best drive down your favorite hole and you're ready to hit your shot into the, into the green. But then what happens, you go into a pit. You end up hitting the top of the ball, and it goes nowhere. And you use all the hard work and all your effort is completely wasted. We're going to talk about why you topped it and how to prevent topping it. It's not quite as easy as lifting your head up and all. It's the same kind of drill. Also I'm going to give you lots of information about how we can solve it and get you hitting on the green from your best drive next time. So the top shot. If we look at setup and how our left arm and our club maximum stretch really.
The club is not going to get any longer but your left arm is not going to get any longer, but it can only get shorter your left arm by pulling it in. So if you think about this, if we swing it back and even if your arm bends a little bit in the back swing it's not the end of the world would like it a bit straighter but it's not the end of the world. But you come in and really pull that arm in, really lift that left arm so it bends, you're going to–you're going to pull that golf off the floor and you're going to hit the top of it. So as you swing, you come back in and pull up. That was a really good top, right on top of the ball. You're going to pull the arm up and hit the top of it. I want you work next time on straightening your arm and hitting down and through the ball. So hit down and through. So as I swing my left arm was straight as I hit the ball, and I've hit the floor and I've reached that green after that wonderful tee shot.