Increase Club Head Speed With the Golf Driver
(Video)
- by Rick Shiels
---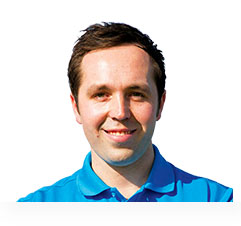 Rick Shiels – PGA Teaching Pro
Okay so I don't not advice you doing this it involves with the stick and ball. I've got the stick in my belt buckle at the moment on the belt loops at the moment, to give you the best understanding of how to create more resistance with your driver. Resistance you're going to create more power you're going to hit the ball a lot further you are going to hit it past your mates. So I've got this stick in my–in my belt loops just had my alignment mistake you don't have to use one of these you can use a bamboo stick or something, but these are very useful to kind of a little aid to help you work on something like this.
Now why I've got it in my hips that's the important question, as we swing back in our golf club is a lot of time where I'll see golfers will swing back and they'll turn everything, so they'll turn the shoulders they'll turn the hips and the knee comes in and not really creating any what we call coil of resistance. So why I've got the stick in my hips at the moment because as I take the golf club away from the golf ball, we don't want to move this too much at the very start. So as we taken it back with — doesn't move too much, as we start to take it further back it will obviously move more as I turn my shoulders.
So I'm going to turn my shoulders huge amount but my stick not so much, I don't want to be dead straight I want to be just off center, so if we're looking at it from there if I swing towards camera it's just turning a little bit. Now if we look our shoulder alignment so I'm going to put this club behind my shoulders this time, I'm going to try and get the golf club to — the bottom of the golf club to point at the tee peg, so massive shoulder turn you can tell how our speed is different I'm creating more resistance. As I turn my shoulder more my hips stay fairly firm, and I'm going unwind all that power through the shot.
So big shoulder turn very little hip turn, unwind that power and that's going to get you creating more club head speed and hitting the ball a lot further. Let's wipe that out let's give that a go with the ball so, if we think about that we're going to go massive shoulder turn very little hip turn, massive turn unwind that coil and hit the ball further than your mates. That's long.