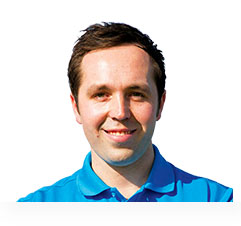 If you're looking to make the most of your golf game, or why not, to start from absolute scratch, we would definitely recommend you the Quest Golf Academy, and more precisely, Rick Shiels, a top Golf Influencer and PGA teacher who's going to "school" you in the ways of the world. In this particular case, we're talking about the beautiful world of golf, obviously.
In case you were wondering, Rick Shiels began his golf-journey as a prodigy child, i.e. his first golf lessons started at Hart Common in Bolton, when he was just 11 years old. By the age of sixteen, he got down to 8, yet he was wise enough to realize that it's not nearly enough to go pro and make it on tour. Hence, he waited for a couple of years and got better and better, so when he turned 18, he started training for PGA. Three years later, he achieved his childhood dream; well, sort of, as he started working at The Mere in Knutsford as a professional, as he was 21 years old.
Almost a decade ago, back in 2010, Rick Shiels joined the digital revolution, as he started his own YouTube channel, in order to draw more attention to himself, and obviously, to gain more customers in the process. Naturally, his YouTube channel was all about golf lessons, as he offered golf club reviews and cool tips and tricks. His YouTube channel started to gain traction slowly but surely, and currently, it boasts almost half a million subscribers (461k to be more precise, but he's on the up and up) and tens of millions of views from all around the world.
Last year, Rick Shiels decided to depart with the Trafford Golf Centre and started his own business together with Peter Finch. That's the short story of the Quest Golf Studio, which is basically a small-scale golf academy by any metrics. Here's a quote from Rick Shiels with regard to his coaching philosophy:

"My aim is to improve the golfer's enjoyment, skill and understanding of his or her golf swing. I do not have a process or a method, but I do have the skills to work out what the individual wants and to give them the advice that will work for them so that they make improvements straight away."

And this is one of his best tips:

"A great way to check your balance is to move your weight onto your toes, then back to your heels. You should be able to find the mid-point, which is where your weight should be set."

The best way to get the general idea about Rick Shiels' golf instruction is to visit this link. There are countless videos to choose from, including stuff like fairway wood address tips, how to play bunker shots, how to play the knockdown shot, pressure proof pitching tips, flop shots made easy and so on and so forth.
Mr. Short Game: "The Most Trusted YouTube Golf Gear Reviewer is none other than UK's Rick Shiels. At 1.41M subscribers and posting four times a week, this is golf's top dog. No one comes close to this guy when it comes to Golf Product Reviews. He is the first golf YouTuber to surpass one million subscribers. He began golfing at 11 years old and took the traditional PGA training at 18 and was a qualified professional at 21. He is a golf coach and has his golf academy in Lytham in the UK. He set the standards on golf reviews giving viewers the numbers and testing they were looking for. He uses his gear on the course and reviews not only the top new gear, but popular and "buget" gear for the regular golfer. He and his team values "independence and impartiality" as one of their goals."

Location: Quest Golf Academy, Prairie Sports Village, Windermere Avenue, Burnley, Lancashire, BB10 2FU