How to Track Your Golf Scores and Progress
(Video)
- by Rick Shiels
---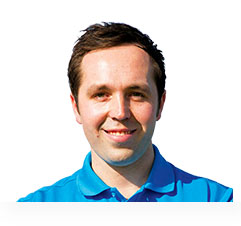 Rick Shiels – PGA Teaching Pro
So you've played your round; either it being good or bad. You need to think about what you've done and how you can improve from it really. Now, my advice is to actually keep a golf diary or a golf logbook. Now this is really important that you do this every round whether it being good or bad. You need to learn about what you've done well and what you can improve. Ask yourself a few questions; once you have got this golf logbook and keep this in your bag, keep this as your practice diary, this is your full golf logbook, this can have your distance charting in it as well. Your first question you need to ask yourself, "What did I do well?" Now this could be if you've played bad or if you've played good. So let's we've played good this time. What did you do well? "I hit that great shot on 15 and managed to put it to two-four and adjust the wind" that's a good response. Otherwise, if you've played poorly, you can go, "Well I didn't lose my head, I just kept within myself. I didn't get frustrated or wound up." So that's the things you can put there.
What do you want to improve? So that would be the next kind of stepping stone from that. If you've got a great ground you can kind of think, "Well, I need to improve because I need to play now to my new current handicap, so I need to know or think about well, actually I did have that three putt on the 18 so it could have been a shot better" or if you've had a bad round you can go, right, I really need to improve my driving, I need to improve my putting." Go and see your golf coach. Get that sorted so next time you play you're not going to make the same problems again. What would I do differently? That's a really important question especially if you've played well. What would I have done differently? "I might not have taken that shot, that risky shot over the water on 16. I probably shouldn't have done that but it did payoff, it hit that rock and balanced on the green but I probably shouldn't have done that" or if it's a bad round, "I probably should have thought about that risky, kind of taking the corner over on the first hole that's completely put me in a bad move for the rest of the round so I probably would have done that differently."
Then you need ask yourself, "What should I practice this week?" So if you've played well you got to think about well, "I need to make sure that whatever I am doing good, I keep doing. I don't change it." I'm going to be practice this week, making sure I get my basics right, hitting more golf balls and really kind of get a feeling for what I'm doing well. If it's a bad run you've got to say "right, I need to sort out that problem and I am going to sort out that problem." I am either going to seek advice or I am going to practice. But have a plan for that practice and keep a log book. Every time you've played, make notes and it's really important you do that because it will get…make sure that next time you play, you improve your golf.