Ladies Golf Drill for Putting Distance Control
(Video)
- by Natalie Adams
---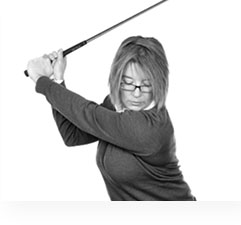 Natalie Adams – PGA Teaching Pro
Today we are going to look at a great distance control drill that's really going to help your speed control with your putting. The drill's called 'stack back'. The way to set it up is you want to go on to the putting green and select a hole to put towards. Then take 8 tee pegs and just put them down around the hole about a putter width away from the hole. So the way to do it just put the head of the putter into the hole, let the putter drop on to the floor, and then just put a tee peg into that position. To move the putter around, put another one in, so you basically got eight compass points around the hole, and that's going to create a 'bull's eye' for you to putt into. And what you want to do now is take a few golf balls, and take — I would start from two paces away from that 'bull's eye'. So two good paces, and then set up, and play the shot.
Now you are going to score the same number, you are going to get one point whether the gall goes in to the hole, or just into the 'bull's eye'. But the idea with this is if you start from two paces, get the ball into the bulls eye — if you don't get it in you've got to stay in that place until — and hit the putt until you do get the ball into the 'bull's eye'. Once you got the ball into the bulls eye, then you can move another two paces back. So you'd start two paces from the hole, if you get the ball in on the first putt, then you move to four paces away from the 'bull's eye'. Now you putt from there, if you get the ball in you move to six paces away. If you don't get the ball in just stay in that position until you have got the ball into the 'bull's eye', and then you can move back. So do it from two paces away, then four paces away, then six, then eight, and keep going until you've moved back to about 12 or 14 paces away.
Once you've got the ball in from each of those positions count up how many balls it took you to count, how many balls you've hit out on the green and then play the game again and see if you can better that number. And that's a really good way to help you to get your distance control but start of close to the hole because obviously it's easier. But you've got a reference point as you move back. That really will help you improve your speed, and your distance control.