Ladies Golf - How To Play Your Best Golf Shots When Faced With Elevation Changes
(Video)
- by Natalie Adams
---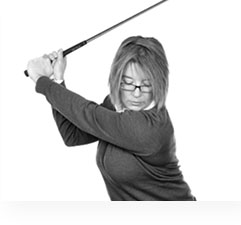 Natalie Adams – PGA Teaching Pro
Here we are going to look at how to play your best golf shots when you are faced with elevation changes on the golf course. And obviously, it's really important to be able to cope with elevation changes, because no golf course is flat all of the time. Even if you are playing at a links course, there will be elevation changes. So if we are looking at playing from an area, where we are lower than where we hit into our intended target, so we have got a more up elevation change here. We are going to consider that the ball, is not going to fly through its normal trajectory, so if this is a slope we are hitting up and we are hitting from down the slope here onto an elevator green up here, you are going to hit the ball, but the ball isn't going to complete its overall trajectory, it normally would fly like this. And land on a surface level to where it's been hit from, so we are only getting part of the ball's trajectory here before it lands, so the ball isn't going to fly as far as it usually would for that reason.
So playing through to a green where it's higher than you, I would really recommend that you take an extra club if not two, so if you would playing a 7 iron in a normally full, for the shot, go up to 6 iron and it will help you to get the ball further up its trajectory. Also, when the ball lands, because it's landing on the upslope and you are not going to get any room forward. Okay, the ball is just going to stop, so play at least one, if not two extra clubs. If you think about the other way around and now we are coming down the slope. So we are playing from an elevated position to a green, much lower than those, the ball is going to be in the air for much longer than it usually would be. So here you are not going to need to take as much club, you are actually going to take less club. Again, if you would think of playing the 7 iron into the green, then swap down to an 8 Iron or a 9 Iron depending on the elevation change and the slope change there. Okay, let's also look, now for playing on the upslope, how that's going to affect the ball flight. Because of this upslope we are going to have to change your set up position. You normally stand on a level surface, so that your spine is perpendicular to that floor and that allows you to hit a really nice golf shot. We need to achieve the same thing even if we are on a surface like this.
So the main thing you got to work on here is altering your setup position, so that your spine becomes perpendicular to that slope. You are going to find that all your weight is going to go on to your lower foot and we are going to move the ball slightly move forward towards the higher foot to allow you time to square the clubface here. The opposite is going to be true of the downhill slope, so when we are here, we still want to set the spine at a right angle and this time, we are going to get, bend the way on the lower foot and the ball towards the higher foot. So don't think left or right foot, try and think low, the weight always goes on the lower foot and the ball always goes towards the upper foot to play the shot. The main thing to remember is just work on whatever the slope looks like, get your shoulders to reflect the angle of that slope, whether you are on the uphill or on the downhill. And then other considerations are when you are playing up the hill, the ball is going to tend to swing right to left in the air, so just aim a little bit more to the right, to allow for this.
When you are playing on the downhill slope, the ball is going to fly left or right in the air. And it's going to come out a little bit lower, so again the ball is going to a bit further. So and a little bit more left if you are on the downhill, a little bit more in the uphill, take an extra club, going up the hill, take a club less going down the hill. And just really work on setting your shoulders and maintaining that position throughout your swing, keep your spine, rotate around the spine of that perpendicular position, you will be hitting great shots off the slopes in no time.