Ladies Golf Tip Step Through with Right Foot to Keep Left Side Stable
(Video)
- by Natalie Adams
---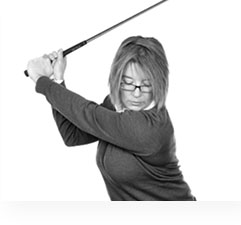 Natalie Adams – PGA Teaching Pro
The lady golfers who are looking to create a more stable left side during the golf swing, this is a great drill to start to employ when you are on the driving range because it will teach your left side to become a lot more stable during the impact position. So first of all let's just have a look at what stability in your left side means and then we'll move on to how we can create that. Looking at creating a stable left side, as you swing the club away, your left side will rotate over towards the right. As you swing down on your back – on your downswing, you need to replace your left side over to the left. So we should see that you are getting a rotational movement where the knee is moving over the left foot, then the left hip moves over the left foot and then the torso and the left shoulder move over the left foot as well. And what we are looking to create is the impact. We see this really solid straight line down the left side.
So rather than this kind of position where the shoulder isn't over the left foot or similarly swaying through and the shoulder going passed the left foot, we are looking to create a really straight line and a lot of stability in this left side so that you can then rotate around this fixed stable points and generate a lot of speed. The left foot should really stay planted during that movement and finish in exactly the same position that it started in. So if you feel that you are not creating that stable left side through impact, then work on doing this drill because it will really help you to create that feeling of stability in the left side. So the drill would want you to make a backswing and then as you swing back down, work on hitting the ball and taking your right foot, stepping over your left foot and planting your right foot once you've hit. If you're not creating a stable side there, you'll find first of all you cant push off this foot, you won't be able to take the step through and similarly, when you do step through, it helps you to rotate around this left side and really keeps the left foot planted.
So work on doing that on the range and then you'll start to get the feeling of what should be happening in that left side as you hit your golf shots. So once you've set up, just work on swinging the club back, step further as you hit, and into position, hold it but you should see that that left side is stayed in position and there's been no movement. You've just rotated around that really stable left side.