How to Rotate Your Body Without Sliding During a Golf Shot The Best Ladies Golf Tip
(Video)
- by Natalie Adams
---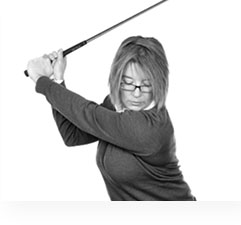 Natalie Adams – PGA Teaching Pro
Here we're going to look at how to create rotation through your golf swing through impact and into the follow through rather than sliding into the shot which causes you problems of various reasons. So if you're sliding into impact what that means is that you setup well. You had made a good back swing, and then as you're coming into impact, your left side and your hips are sliding this way in a natural environment so you can see are moving towards that golf back. My left hip is moving outside my left foot. My low half is going that way okay.
The correct position to be in a impact is you want to have a really straight line down your left side, so its important either you rotated your left hip, your left hip is over your left hip and so as your left shoulder. If you're sliding into impact, you'll find that your left hip moves out over the golf ball. Its over your foot, and as you come back in, you'll be too much over the golf ball, and you'll be struggling to get a good connection, so also going to mean that if your hips are sliding this way your upper body as a consequence will have to lean back this way. It's going to make it very, very difficult to get a consistent strike to get the club head back to the ball well.
And also that sliding action, you're not going to generate the power you could if you were making the rotational movement back into the ball, so here's a good drill to how do you get that difference in feeling between sliding and rotating. If you stand, right next to a wall and basically stand so your backside is against the wall. You take the club out a bit, and just place your hands across your chest. If you make a back swing movement, you'll notice that the right side of your back side stays on the wall, but the left side comes off, and that's absolutely correct.
You slide in as you move back through the left side may stay off the wall or it may go back onto the wall, but both sides of your backside will be moving along the wall, so that sliding to rotate correctly what you want to do is once you're in backswing position is you want to work on replacing the left side of your back side back onto that wall, so that you're rotating and turning the left side of your backside onto the wall, so the right side is now coming off, and you continue that movement until the left seam on your left trouser leg and hit and now touching the wall, so that's how to rotate through the golf shot correctly.
So once you've done that a few times, and you've got that feeling you could then translate that onto your range practice by putting your golf bag on the left side of you. Okay put it quite close to your left foot as we got it here, and then we're just going to make some swings and as we make these swings we're going to work on just turning to the golf bag rather than bumping it out of the way okay. So we want to rotate. We want to work on that feeling of replacing our left side of our back side back onto the wall, then continuing that movement through so that the left seam on the left trouser is now on the wall, and we're now facing with the zip on your trousers, the button on your trousers now facing flat to that golf bag.
So if you work on that drill on the core on the driving range, you'll then get a better feeling perhaps to rotate rather than slide through your golf shot. You're going to see a massive improvement in your connection and also in the distance that you can hit.