How Can I Hit Better 3 Woods From The Fairway?
(Video)
- by Peter Finch
---
When used properly, the three wood is one of the most versatile clubs in your bag.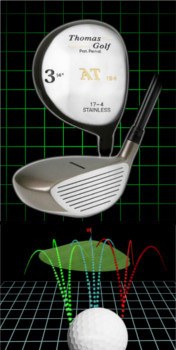 A three wood can be used to hit tee shots, of course, and it can also be used effectively from the fairway. Some golfers even choose to use their three wood to hit bump-and-run chip shots from time to time. Don't make the mistake of thinking your three wood can only handle one type of shot when it is actually capable of much more.
In this article, we are going to talk specifically about three wood shots played from the fairway. You may wind up hitting your three wood from the fairway as a second shot on a long par four, or on a par five where you are attempting to go for the green in two. Whatever the situation, it is important that you know how to approach this shot properly. Assuming you don't hit your driver from the fairway, the three wood is the longest option you have in the bag for fairway shots. Build your confidence in this shot and you will have a valuable option to turn to when playing from long range.
You should not expect to hit good shots from the fairway with your three wood if you fail to practice these shots on the range. Playing a three wood from the fairway is slightly different than playing one from a tee, so don't assume your practice off the tee is going to translate perfectly. Make it a point to hit at least a couple three wood shots from the fairway during your practice sessions so you can gradually build confidence in your ability to execute this type of shot when on the course.
All of the content below is based on a right-handed golfer. If you happen to play left-handed, please take a moment to reverse the directions as necessary.
Understanding the Concept

As you work toward improving your golf game, no matter what part of your game you are trying to improve, it is a good idea to take a step back and look at the big picture. Too many golfers get caught up in the finer points of their technique without understanding what they are trying to accomplish overall. How are you trying to move the club head through the hitting area? What type of shot are you trying to produce? Asking big questions will often help you clear up any confusion or issues you are having with the small stuff.
So, with that in mind, let's talk in this section about the basic idea behind playing a three wood from the fairway. First and foremost, this is a shot that is about distance. If you wanted to prioritize accuracy, you wouldn't be playing a three wood from the fairway – you would reach for a shorter club. You can still strive to be accurate, of course, but this is a shot that is about maximizing how far you can hit the ball from a lie in the short grass. As mentioned in the introduction, the two likely scenarios for this shot are the second shot on a long par four, or the second shot on a reachable par five when you are going for the green in two. Both of those situations call for plenty of distance, which is why the three wood may be pressed into action.
Hitting a three wood from the fairway is not the same as hitting an iron shot from the fairway. When playing an iron shot, you are going to hit down through the ball, at least slightly, in order to make clean contact and cause the ball to fly up into the air. The downward blow that you need to achieve with your irons is one of the keys to establishing great ball striking. With that said, the idea is different when playing a three wood shot. Rather than trying to hit down, you are going to attempt to 'sweep' the ball off the ground by swinging on a plane that is parallel with the ground through the hitting area. You don't want to be hitting down significantly, but you don't want to be hitting up, either. Do your best to move the club level along the ground as you swing through and your ball striking with the three wood should improve dramatically.
So, the idea here is actually quite simple. You are going to do your best to create a flat swing through the hitting area, so that the club can contact the ball while moving parallel to the ground. You aren't hitting down on the ball, but you aren't hitting up, either. Unfortunately, actually executing this move is going to be a little trickier than reading about it. You shouldn't think of this is an impossible task, because it isn't, but you do need to give this shot plenty of respect and understand that it will take some hard work to improve.
It is worth noting that you may experience a change in your ball flight when hitting these kinds of shots, as compared to others that you play with different clubs. For instance, you might find that although you tend to hit a fade with your irons, you wind up producing a draw with your three wood. That is a relatively common outcome, as the flatter swing shape required for this shot is going to promote a draw. The only way to know for sure what kind of ball flight you are going to achieve, of course, is to actually see what happens when practicing on the range. Watch your ball flight carefully during practice and adjust as needed on the course.
Basic Fundamentals

At this point, you should have a pretty good understanding of what you are trying to do with the club when hitting a three wood from the fairway. In this section, we are going to move on to cover some of the basic fundamentals that you'll want to watch for as you practice. If there is room for improvement in your game with regard to this shot, that improvement will likely come as a result of working on one of the keys listed below.
A relatively wide stance. Balance is important for all golf shots, but it is especially important here since you need to sweep the club across the top of the grass with precision. Any excess movement to the left or right during your swing is going to lead to trouble. To give yourself a good chance to stay balanced, set up with your feet relatively far apart. As a starting point, set your feet just outside shoulder width during practice and hit a few shots. How does that feel? You should feel like you are comfortably balanced yet still able to make a big turn back and through without much trouble. If you feel restricted in your turn, it's okay to move your feet in slightly until you find a good middle ground.
Flex in your knees. One of the biggest mistakes made by amateur golfers on this type of shot is failing to flex the knees properly. You need to make a flat, sweeping swing when in this position, and flexing your knees sufficiently at address is essential for reaching that goal. Sit down into your stance so you have plenty of knee flex and your backside is sticking out behind you. Then, once the swing begins, make sure to maintain your knee flex all the way through the backswing and into the downswing. If you have been standing with your legs straight up and down while hitting your fairway woods, you may be amazed at how much this one tip can help.
A wide takeaway. Unfortunately, many golfers go wrong immediately after they begin their swing on this type of shot. Rather than sweeping the club wide in the backswing, those players pick the club up using their hands and wrists. The result is a narrow backswing which then leads to a steep downswing. Of course, a steep downswing is not what you are looking for in this case. By making a wide takeaway, you can keep the club well away from your body at the top of the swing, which sets the stage to take a beautiful path into the ball. The best way to keep your backswing wide is simply to avoid using your hands and wrists too much early in the swing. Keep your hands out of the action while you turn away from the target slowly. As the backswing progresses, there will come a point where you can use your wrists to set the club and prepare for the downswing. Using this wider takeaway is going to feel a bit uncomfortable at first but give yourself time to figure it out and we bet you'll be happy with the results.
Ball position near the front of your stance. This one is critical. If you are going to effectively sweep the ball off the turf when hitting your three wood, you need to make sure your ball position is just right. If it is too far forward, you'll wind up hitting up on the ball – and a thin shot will be the likely outcome. Or, if it is too far back, you'll hit down and take a divot – not exactly what you want to do when playing a three wood. Somewhere in between those two extremes is a spot where you will be able to contact the ball while the club is moving parallel to the ground. For most golfers, that spot is going to be well forward of the midpoint of the stance, yet not quite all the way up to the left foot. Experiment with different ball positions on the range until you settle on one that seems like a good fit.
Chase the ball down the line. This last point is no such much a physical tip as it is a mental approach for this shot. When you swing down toward impact and through the ball, you should feel like you are 'chasing' the ball down the line toward the target. This is an important sensation because it is going to help you stay down on the shot and get all the way through impact properly. Remember, the swing doesn't end the moment you strike the ball – it's important to swing all the way up to a full, balanced finished position.
Overall, you aren't going to need to change too much about your swing when playing a three wood from the fairway as compared to other shots you'll hit during the typical round. With that said, there are some points to keep in mind as you practice, such as those listed above. Do your best to hit on these fundamentals and look forward to gradual progress as you move forward.
When to Use This Shot

Hitting better three woods from the fairway is not just about making a solid swing from a technical standpoint. That's important, of course, but you also need to make sure you are picking the right opportunities to use this shot. If you fail to pick your spots correctly, you'll be trying to force the ball somewhere it really doesn't want to go – and you'll need to be lucky to get away with it. Shot selection is important all over the golf course and the story is no different here.
So, what should you be looking for when deciding whether or not to play your three wood from the fairway? The points below are a great place to start.
Plenty of room in the landing area. This is where the process needs to start, as you don't want to aim for a landing spot which is too small to reasonably hit with a three wood. Remember, this is a long shot, so thinking that you are going to be extremely accurate is just not realistic. It is good to be confident in yourself and your swing, but it's also important to make smart decisions. Estimate how far you think the ball will travel and decide whether or not there is enough room in that part of the course for you to bring this shot back down safely. If not, consider playing a shorter shot to take some of the risk out of the equation.
Consider major hazards. Along with judging the size of the landing area, you also want to consider any major hazards which will come into play if you use a three wood. Water hazards, deep bunkers, and out of bounds stakes are just some of the course elements you'll want to watch for before swinging away. Golf is a game that tends to reward those who play conservatively more than those who are overly aggressive. When in doubt, lean toward the safer shot and keep your round on track.
Pay attention to the slope of the ground. When making a big swing like the one you'll be making with your three wood from the fairway, you want to have a reasonably flat lie. The ground doesn't need to be perfectly level, but this is not the type of shot you want to attempt from a significant upslope or downslope. If you don't have a very good lie, it's almost always going to be better to lay the ball up and avoid taking on the risk that would come with playing a three wood from that spot.
Look for a meaningful reward. One of the points which is often overlooked in this debate is making sure that there is actually a useful reward waiting if you do execute a quality three wood shot from the fairway. In other words, is it worth it to take on the risk associated with the shot? If pulling off a beautiful shot means that you'll wind up with an awkward 30-yard pitch for your next swing, you really haven't gained anything. Be sure that a well-executed three wood is going to leave your ball in a desirable spot. Otherwise, choose a different club and move the odds of success farther in your favor.
Trust your gut. Sometimes, you will just 'feel it' with regard to a given shot. Maybe the shot won't make a ton of sense from a logical perspective, but you will simply feel like it is the right way to go. Or, on the other side of the coin, you might encounter a shot that does look like a great opportunity, but you won't be able to get comfortable. Either way, don't ignore the value of trusting your instincts when it comes to shot selection. You have to be confident in order to play quality golf shots, and you'll never find that confidence if you fail to listen to your instincts.
The average golfer greatly underestimates the importance of shot selection when it comes to posting lower scores. Yes, it would be great to improve the quality of your shots, but you can make progress with your game simply be using the shots you already possess more effectively. Whether it is the three wood from the fairway or any other kind of shot around the course, making smart decisions can take you a long way in this game.
Around the Greens

For the last section of this article, we are going to go in a different direction. Hitting better three woods from the fairway is not a topic that needs to be limited to full swings, as you can play handy three wood shots from the short grass around the greens, as well. This type of bump-and-run shot is useful for golfers of all skill levels. You probably won't have the opportunity to use this shot particularly often, but you'll be glad you've practiced it when the chance does come up.
When you are ready to practice chipping with your three wood, keep the following tips in mind.
Use your putting grip. This is a great way to start. The technique you are going to use for this shot is quite simple, with your shoulders rocking back and through to move the club. That is the same way you move your putter when on the green, so it only makes sense to hold the three wood with your putter grip for this shot. Since your three wood is quite a bit longer than your putter, it will probably be necessary to choke down on the handle at least a couple inches at address.
Play the ball forward in your stance. On this point, you are going to setup in a similar way to how you setup for a full swing three wood. You'll want to have the ball up near the front of your stance, so you can sweep it off the grass and toward the hole. If you wind up placing the ball too far back in your stance, you will hit down on the ball and it won't hit the ground rolling as smoothly as you would like.
Practice speed control. The hardest part of this shot is getting the distance right. At first, you will probably hit the ball too hard on most occasions, since the ball tends to come off the club face quickly when using a three wood. Pay close attention to your speed control during practice so you can develop the touch needed to use this shot successfully on the course.
When you are comfortable hitting three wood shots from the fairway, you have a great weapon in your bag that can help you get through some difficult holes. Without that confidence, however, you will need to lay up on those shots and you'll always be a little short of reaching your potential. The best way to play this game is to have as many shots in your bag as possible. We hope the advice provided in this article will help you make progress on this shot during your upcoming practice sessions. Good luck!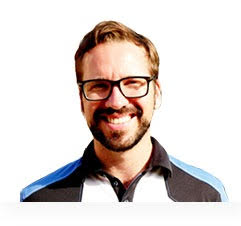 Pete Finch – PGA Teaching Pro
So how can I hit a better 3-wood from the fairway? Now a lot of the difficulty in this shot can be solved by taking an absolutely perfect setup position. If your setup position is correct hitting a 3-wood off the fairway, it doesn't have to be so difficult and it can become a great weapon on your game as well. So to setup with the 3-wood off the fairway the first thing we need to do is to make sure the ball is just inside the left heel. Now if you approach the ball with both of the toes pointing forwards, take a little step with your left foot, and then a bigger step with your right foot so the feet is shoulder width apart and the ball will automatically fall just inside the left heel. With the rest of the setup you want the butt end of the club pointing towards the belt and the shoulders to be tilted slightly away from the target. And this will get you in a lovely solid setup position to actually sweep the ball away. And that's the next thing you need to make sure you do is that you sweep the ball off the surface.
You don't want to be digging down into the ground with your 3-wood because it needs to be a nice shallow arc through the ball. After you've actually swept it cleanly off the surface the last thing is to make sure you finish in a nice fall finish position facing the target. This will ensure that you've swept the ball off the surface and you've actually followed through to a nice finish position and you've not left anything on the back foot. So to go through the setup is getting the ball just inside the left heel, the butt end of the club pointing at the belt, shoulders tilted slightly away from the target, and you want to be sweeping the ball away and finishing in a nice fall finish position.
Now the one thing you don't want to be doing with your 3-wood is actually trying to help it up into the air. The last thing you want to be doing is coming through, staying on the back foot, and trying to flick it with the hands. This all calls the shot out of the bottom of the club sending it very low and very thin. You want to be concentrating on sweeping the ball off the surface and then coming up to a full finish position.