How To Hit Fairway Woods Correctly - Golf Tip 3 and 5 Wood
(Video)
- by Pete Styles
---
As an amateur golfer, you may not be getting enough value out of your fairway woods.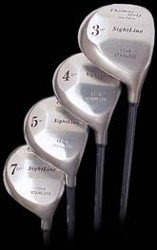 If you are going to keep these clubs in your bag – and you should – it only makes sense to get as much production from them as possible. After all, each fairway wood is taking up one of the 14 valuable spots you have available in your bag. If they are just going to sit there without being pressed into action, you might as well leave them in the garage.
In this article, we are going to talk specifically about the three and five woods. These are highly useful clubs, yet it seems that many golfers somewhat overlook what they can bring to the table. Take the time to learn how to use these clubs on the range and your effort can pay off in a big way on the golf course. Fortunately, as you'll find when you start practicing, these aren't particularly difficult clubs to hit. If you can already hit your driver with a reasonable amount of success, you should be able to take that swing and put it to use effectively with your fairway woods (after making a couple small adjustments).
While it is obviously important to make quality swings with your fairway woods from a technical perspective, you are also going to need to make good decisions with regard to when to use these clubs during your rounds. This is where many golfers go wrong. Later in the article, we are going to dedicate an entire section to the decision-making process you should use on the course in order to end up with the right club in your hands. Even if you are making great swings, you can find yourself in trouble if you aren't making good choices. It's only when the combination of solid technique and smart decisions comes together that you'll be able to live up to your potential.
All of the content below is based on a right-handed golfer. If you happen to play left-handed, please take a moment to reverse the directions as necessary.
Transitioning from the Driver

When you were first getting started in the game of golf, it's likely that the driver was the club you hit on the range more than any other. There are a couple reasons this is true for so many players. First, it is the club you hit off the tee most of the day, so it only makes sense to practice with it regularly. Also, it's just plain fun to hit the driver – this is the club with the greatest distance potential out of your entire set. If you ask the average golfer which club is his or her favorite, there is a good chance that most players will identify the driver without having to think twice.
Given how many swings you have likely made with your driver over the years, the transition to hitting three and five wood shots should be a pretty easy one. Your three and five woods are constructed in a very similar manner to your driver, and the general shape of the swings you use for all of these clubs should be the same. If you are making dramatic changes in your technique between your driver and your fairway woods, you are doing something wrong. Keeping things simple is a good idea in this difficult game, and one way to add simplicity is to use the same basic swing with your fairway woods as you use with your driver.
So, we've now established that you should not be changing your technique much between your driver and your fairway woods. With that said, there are some subtle changes you can make which will help you optimize your fairway wood play moving forward. Let's look at three adjustments you should think about when practicing your three and five wood shots.
Flat rather than up. When hitting a driver, many golfers find their best results by hitting up slightly through impact. This angle through the hitting area helps to produce a good launch angle while also limiting the amount of backspin that is placed on the ball. Of course, your ability to hit up on the ball is present only because you can tee the ball high when hitting a driver. Obviously, this would not really work when playing from the fairway, since there isn't any room between the ground and the ball on shots from the turf. Therefore, when hitting your fairway woods, the goal should be to simply swing through on a flat plane. By avoiding hitting down while also not trying to hit up, you should be able to produce a nice ball flight over and over again. So, if you are trying to hit through on a flat plane instead of hitting up, how do you make that happen? The easiest option is simply to change your ball position. By moving the ball back in your stance a couple inches from where you place it for your driver, you will change the contact point as it relates to your swing arc. You should now be hitting the ball at the bottom of your arc, where the club is moving relatively parallel to the turf. Experiment with your ball position on the driving range until you find a spot that seems to lead to quality results.
A little tighter. For most golfers, hitting the driver means really turning it loose and trying to produce as much distance as possible off the tee. That's fine, as long as you have at least enough control over the ball to keep it in play most of the time. When you move from the driver down to the fairway woods, however, you are going to want to shift your focus to prioritize control over sheer distance. There is nothing wrong with trying to hit your fairway woods with some power, but your main goal should be to hit your targets as precisely as possible. Whether you are using a fairway wood to hit a tee shot or an approach shot, placing the ball correctly is the key. To emphasize control, try to tighten up your backswing a little bit. Make a controlled turn and don't let the club drift past parallel at the top of the swing. With a controlled backswing, you should be able to strike the ball cleanly on a consistent basis, and you should find it pretty easy to hit your targets. Save the big aggressive swing for your driver and opt for control when you have a three or five wood in your hands.
Consider a different ball flight. This is not a point that needs to be set in stone, but you might want to consider using a different ball flight with your fairway woods as compared to your driver. We said earlier that consistency in your golf game is a good thing, and that's true, but sometimes the best bet is to take the option that provides the easiest path to success. In this case, that might mean switching up your flight since you'll be playing some of your shots with these clubs directly off the turf. Basically, if you play a draw with your driver off the tee, consider allowing yourself to play fade when hitting from the fairway. It can be tough to get down into a position to produce a controlled draw off the grass with a three wood or five wood. For many players, the fade is the easier shot to create in this situation. Of course, that is going to depend on the player, so go right ahead and use a draw if that seems to be your natural shape with these clubs.
As you can see from the instructions above, there isn't much you need to change in order to adapt your swing for the fairway woods. Assuming you have a trustworthy driver swing already in place, you should be able to begin producing quality fairway wood shots in relatively short order.
Troubleshooting the Fairway Woods

It's great to be optimistic about your chances to play quality fairway wood shots, and as stated at the end of the previous section, you should be able to do so if your driver swing is already in a good place. However, it is also useful to be realistic and understand that golf is a very difficult game. You are unlikely to have smooth sailing right from the start on this point, so don't be surprised if a few problems pop up along the way.
In this section, we are going to touch on what those problems may be, and how you can work toward correcting them as soon as possible.
Hitting the ball fat. This is a common problem, especially when trying to play fairway wood shots directly from the turf. If you try to help the ball up into the air at all, you are likely to lean back away from the target and hit the shot fat. Since it doesn't look like there is much loft on the club as you look down from address, you might feel compelled to help the ball up a bit. You need to fight this temptation. There is enough loft on these clubs to get the ball airborne properly, as long as you make clean contact. Swing through impact on a flat plane, doing your best to move the club head nicely along the top of the turf through the hitting area. As long as your fundamentals are in good shape, you should be able to make solid contact and send the ball up towards the target. It's frustrating to consistently hit your fairway wood shots fat, but ignoring the impulse to help the ball off the ground should go a long way toward eliminating this mistake.
Hitting the ball thin. Just as you may have trouble hitting your fairway woods fat, you may also run into trouble from time to time in the form of thin shots. These might not be quite as frustrating as fat shots – after all, you should still get at least a little bit of distance out of the shot – but they still aren't what you are looking for when you make a swing. If you are hitting your fairway wood shots thin, there is a good chance your ball position is to blame. When the ball is too far forward in your stance, you are going to catch the ball on the upswing – and when playing from the turf, that almost always means you'll hit a thin shot. Simply by moving the ball back an inch or two in your stance, you may be able to make contact perfectly at the bottom of your swing arc.
Struggling to get sufficient height. We mentioned above that you should trust the loft on your fairway woods when trying to get the ball up off the air. That is a good idea, but you still may find that the ball isn't flying high enough for your shots to be particularly useful. When you are struggling to get the ball off the ground, try to alter your ball flight to use a left-to-right pattern. If you are able to swing through impact in such a way that a fade is produced, it's likely that the ball will fly a bit higher than it would have if you hit a draw. As long as your swing technique allows you to create a fade without too much trouble, you will enjoy the added height this type of shot provides.
Try not to get frustrated when you run into trouble with your fairway woods. Struggles are just a natural part of this game, as golf is one of the most challenging sports in the world. Rather than letting frustration take over, simply take a deep breath, look at the problem objectively, and get to work. Before long, you should find that you have overcome the struggles and your fairway wood play will be headed in the right direction.
Making Good Choices

So much of getting good performance out of your fairway woods comes down to making smart decisions. Of course, the same thing can be said for the game of golf in general – making smart choices will go a long way toward helping you shoot low scores. In this section, we are going to talk about some key points that you should keep in mind while weighing when to use your fairway woods, and when to opt for one of the other clubs in your bag.
Short par fours are a perfect opportunity. Many amateur golfers make the mistake of reaching for their driver on the tee of every par four and five hole, no matter what that hole may look like. Don't put yourself in the same category as those kinds of players. When you walk onto the tee of each new hole, keep an open mind and assess the situation before deciding which club you are going to use to put the ball in play. When you encounter a short par four, using a three or a five wood off the tee is a nice option. You should still get enough distance out of the shot to setup a reasonable approach, but you should have more control over the ball flight than you will have with the driver. As part of your assessment of the hole, look at the landing area and decide which of your clubs will give you the most room to work with. For example, if there is a fairway bunker at a distance you may reach with your three wood, consider using your five wood to avoid that problem.
Going for the green in two on par fives. This is perhaps the most exciting opportunity you will have to use your fairway woods. After you have blasted a perfect drive off the tee on a par five, you may be looking at a second shot which gives you the opportunity to reach the green and setup an eagle putt. Should you go for it? That depends entirely on what you see in front of you. If you have a lot of room to work with and a good lie, going for the green is probably the right call. On the other hand, the presence of a hazard or even a patch of deep rough should cause you to think twice. You don't want to put yourself into a tough spot by being too aggressive when you could have played it safe. As you gain experience, you will get better and better at deciding when to go for the green and when to lay back.
Playing to your own strengths. One thing that is important to understand about club selection in golf is the matter of playing to your own strengths. You should never feel pressured or obligated to hit a certain shot just because that's what another player would do. For example, if you have the opportunity to go for the green in two on a par five, but the shot doesn't really fit your ball flight, there is nothing wrong with just laying it up. It may be that the shot calls for a draw and you are more comfortable hitting a fade. Whatever the case, don't force yourself to do something that you don't think is going to work out in the end.
Perhaps the best tip that you can receive on this topic is that you simply need to be thoughtful with your club choices on the golf course. Don't just get your yardage and immediately pick out the club that usually matches that number in normal conditions. There are all sorts of variables to consider as you play, so think every shot through and only proceed when you truly believe in the choice you've made.
A Handy Short Game Shot

To finish up our article on the three and five woods, we are going to venture into what is perhaps a surprising place – the short game. While these clubs can hit some of the longest shots out of any of the clubs in your bag, they are also useful around the greens. You are never going to turn to fairway woods for the majority of your short game shots, but they can be useful in the right situation.
The situation we speak of is when your ball is resting on the short grass, just a few feet off the side of the green. When this is the case, you might be tempted to simply use your putter, as you will probably want to avoid the risk that comes along with hitting a traditional chip shot using a wedge. However, without much loft to speak of, your putter is going to cause the ball to roll through the fairway-cut before it gets onto the green. That might work okay if the grass is cut short and the ground is dry, but that won't always be the case. When you need to get the ball off the ground just for a moment before letting it bounce and roll the rest of the way, turning to a fairway wood is a worthwhile alternative.
To hit this shot, you are going to use your three wood or five wood like a putter. Use your putting technique, play the ball roughly in the middle of your stance, and pop the ball toward the target. With just a little practice, you may be surprised to find just how effective this shot can be.
We hope this article helps you to get improved production out of your three and five woods. These can be extremely useful clubs, and they are more versatile than you may think at first. Give them their fair share of practice time at the range and you should grow to trust them more and more as the rounds go by. Good luck!
During the lessons that I teach on a day to day basis. I often ask a lot of golfers you know what's your favorite shot what's your least favorite shot? And one of their most common answers for least favorite shot is 3-wood or 5-wood off the deck. 3-wood or 5-wood off a tee is a different proposition quite an easy proposition actually. But 3-wood or 5-wood off the deck is a very different proposition. And the problem you have here is I think it is the hardest shot because you've got your second longest club, the only one that's long with a driver. But with a driver you've got to grip a tee-peg. Here you got your second longest club and no tee. Anything else that's hit from the fairway be it a long iron and short iron whatever well that's a shorter club with more loft. So here you got the length nearly of a driver very, very little loft and no tee-peg. So it stands to reason that a 3-wood or a 5-wood from the floor is going to be a very difficult shot.
The problem you have is there's so little margin of error certainly in terms of the vertical height of getting a good contact. Whether you hit the top of the ball or whether you are try and get lower and hit the ground. The problem also stems from the fact that you've got not almost loft on the face and a very forward ball position, if you have the ball position too far back you'll deal off the golf club and just hit it straight into the floor. So you need quite a forwards ball position we're going to play it about a ball and a half's width maybe two balls width from your front instep. But having it on the front instep the club is now maybe on the rise as it hits through the shot and if it's on the rise as you're leaning back, you're going to bottom out first, and you're going to hit the top of the ball. If you try and hit down on it too much take a divot there's a rate that you hit it fat. So it's never an easy shot to get right.
So here is a little tip to help you get that ball position in exactly the right place. Take your normal setup and just go ahead make a few little swings with your 3-wood. And as you swing you'll scuff the floor and just notice really accurately whereabouts you're scuffing. If you're scuffing a long way back consider where your body weight is. You're probably leaning back at that point. But if you're moving through nicely and scuffing the ground mark where that position is and then slot the ball directly in to that position. So I'm going to just pop the ball here and it think that's going to be sitting about two balls width from my left instep, that's a good position for me to be in. And then as I drive my body weight on to my left side and sweep this ball away I'm just going to try and chop the leaves off the top of the grass I don't really want to get down into the roots of the grass and scuff it, but also I don't want to hit the ball cleanly off the surface and not be able to tell where I was because the chance that I would be too high up on the ball there catching in a bit thin.
So as I setup now balls nicely falls in my stance. Setup is just a little bit back maybe 55% back. I wouldn't go as far as leaning back like I would do with my driver, but likewise I don't want to be in front of it chopping down like I would with a wedge, its right in that middle ground so 55% onto my right side is okay. Nice setup position and then just try and clip it off the surface. And then sweep it away nicely probably just caught the top of the mat there but it didn't really dig down too much. That's a right way to play a 3-wood. Scuff the ground, find where your ball position is it should be around about two inches from your instep 55% on to your right side and then just sweep that ball away with a little scuff of the turf but don't actually take a divot.