How To Practice Your Golf Chipping Correctly
(Video)
- by Pete Styles
---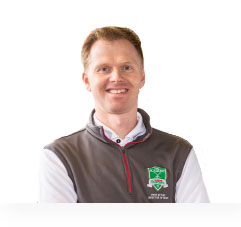 Pete Styles – PGA Teaching Pro
Like any part of your game, clearly, practice is a really integral and important part of improving your chipping, particularly if you've been struggling with fatting and thinning the golf ball. But it's not a part of the game that people practice enough – I don't feel. I think when a lot of golfers go to the range, they focus more on the longer clubs, the glamorous clubs, the fancy clubs, and they probably neglect a little bit of their chipping. And when they go on the golf course, they find they're chipping badly and also then they're putting badly because they're putting from too far away from the hole. So if we can improve your chipping, we're probably also going to improve your putting stance because you're going to be nearer to the hole to get your putts in.
So there are two elements to chipping practice, as I would say it. The first one is improving the technique. Let's make sure we've got decent technique for good quality contact. So for the practice of the technique, we might go 30 yards back away from the flag with the same club with quite a few balls and just practice from the same sort of lie – technique, technique, technique – over and over again until we can be really consistent at striking the ball correctly and having good distance control.
Now, they are the two things that I would focus on the most because alignment of chipping is generally fairly easy. It's a bit of a given that you're not going to miss 10 yards left or 10 yards right. You certainly shouldn't be. The difference with chipping is the fact that you thin the ball or fat the ball occasionally and your distance control isn't very good. So, accuracy should be taken care of. Good focus of distance control and good striking should be nice and consistent. And then you can move on to stage 2.
Now, stage 2 of chipping practice is going to be using different clubs from different lies to hit different distances. And the second part is a lot more sort of realistic on-course scenarios. So, practice from situations you found yourself in on the golf course. Maybe put a bunker in the way, change clubs to a more lofty club – how am I going to chip over the bunker? Then move out of the way so the bunker is not there anymore, you got a low bump and run, change clubs – how would I play that shot.
So use the second part of your practice, so use lots and lots of different clubs, lots more on-course scenarios, but make sure you've really got your technique and particularly your ball striking and your distance control really dialed in before you do that second part of your practice. But the key to chipping practice is just making sure you do some. If you're not doing any at all, any is going to better than none. But if you can use those two little exercises: controlling your swing first; then start controlling the clubs that you're using over different obstacles, that will be a great chipping practice.