How To Practice Your Wrist Hinge In Your Golf Swing
(Video)
- by Pete Styles
---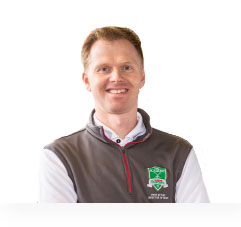 Pete Styles – PGA Teaching Pro
One of the first drills that I often give golfers to help them with their wrist hinge is actually to teach them to hit shots with no wrist hinge and that might seem a little bit odd, but bear with me as I explain this through. I'm going to take a 20 to 30-yard shot using my 50 degree wedge and just chip the ball this way so you can see it from the front arm and the first thing I'm going to do is actually chip the ball without any wrist hinge whatsoever. So, I'm going to swing back and through and I'm not going to use my wrist hinge at all as I pitch the ball forwards.
And by learning how to hit that shot with no wrist hinge, I can just ensure that I'm not mistaking my wrist hinge and bring in it into my takeaway position. So, I don't want to see any wrist set or wrist hinge down here. I want to learn to come straight back and straight through with straight arms. That way when I make my normal swing and try and set my wrist correctly, I will do my straight back takeaway, then put the wrist set in or about when I get my left arm parallel to the ground, I want my wrist hinge to happen here but not down here.
So, the first thing of learning how to set your wrist correctly in your backswing is learn to get rid of any wrist hinge at all. Practice at a low level 30 yards back through, no wrist hinge at all. Then start to utilize and set it up here. So, you might start off your practice session, just hitting those little 20, 30-yard of that end of the range, then feel like you are going to go to 50, 60, maybe even to 100 yards, so 30 yards is no wrist hinge, 50, 60 is a little bit and then 100 yards is a full wrist set with a pitching wedge.
And if you can learn to practice your wrist hinge with your wedges, everything is just a bit slow with the wedge, so get the technique right with the wedges and then take it up further and further into your full swings, but work on the wedges, work on no wrist hinge first, and that's a great way of making sure you are using the wrist hinge at the right point in your swing.