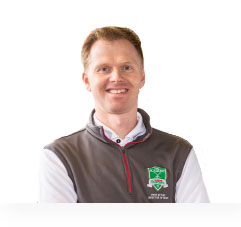 Pete Styles is a renowned PGA teaching professional with a wealth of experience in helping golfers of all levels improve their game. Known for his passion for teaching and commitment to player development, Pete has established himself as a prominent figure in the golf instruction industry. Here are some key points about Pete Styles and his teaching approach:
Impressive qualifications:

Pete Styles is a Class AA PGA professional, indicating his expertise and knowledge in golf instruction.
He has accumulated years of experience working with golfers of all ages and abilities.

Holistic teaching philosophy:

Pete takes a comprehensive approach to golf instruction, addressing all aspects of the game, including technique, mental approach, and course management.
He believes that a well-rounded golfer excels in all areas and focuses on developing a player's overall game.

Individualized instruction:

Pete understands that each golfer has unique strengths, weaknesses, and goals.
He tailors his teaching methods to meet the specific needs and learning style of each student, ensuring personalized instruction.

Clear and concise communication:

Pete excels in breaking down complex golf concepts into simple and understandable terms.
His teaching style is characterized by clear and concise communication, making it easier for students to grasp and implement his instruction.

Emphasis on fundamentals:

Pete recognizes the importance of solid fundamentals in building a consistent golf swing.
He places a strong emphasis on grip, posture, alignment, and balance, considering them as the foundation for a successful swing.

Use of technology and video analysis:

Pete incorporates modern technology, such as video analysis and launch monitors, into his teaching methods.
By utilizing these tools, he provides visual feedback, analyzes swing mechanics, and identifies areas for improvement.

Practical and game-based learning:

Pete believes in incorporating practical and game-based learning into his lessons.
He creates on-course scenarios and practice drills that simulate real golf situations, helping golfers develop skills that translate to improved performance.

Mental game coaching:

Pete recognizes the importance of the mental game in golf.
He provides guidance on managing emotions, building confidence, and developing a strong mindset to enhance focus and decision-making abilities on the course.

Junior golf development:

Pete is dedicated to nurturing the next generation of golfers.
He has a passion for junior golf development and works with young players to develop their skills and instill a love for the game.

Author and content creator:

Pete shares his expertise through various platforms, including his website, social media channels, and instructional videos.
He has written articles, created online courses, and produced instructional content to reach and assist a wider audience.

Professional experience:

Pete has a rich background in golf instruction, having worked with golfers of all skill levels, from beginners to touring professionals.
He has conducted clinics, workshops, and individual lessons at prominent golf facilities and academies.

Positive testimonials:

Pete has received numerous testimonials from his students, praising his teaching methods and their improvement under his guidance.
Golfers appreciate his patient approach, ability to simplify complex concepts, and genuine passion for helping them achieve their golfing goals.
Pete Styles' expertise and dedication to golf instruction have made him a highly respected PGA teaching professional. Through his holistic approach, individualized instruction, and ability to effectively communicate golf concepts, Pete continues to make a significant impact on golfers' games, helping them reach their full potential on the course.
For many golfers, the path to better performance runs through the help of a PGA Teaching Professional. There are teaching pros at most golf facilities, and these individuals are trained and qualified to help you improve your skills on the tee, on the green, and everywhere in between. In this article, we'd like to highlight Pete Styles, a top golf Influencer and notable PGA Teaching Pro who has served countless students throughout his 17-year career.
Belief in You
For new golfers, it is often hard to summon up the confidence and courage to play this game successfully. Without a doubt, golf is an incredibly difficult game, and it can be overwhelming for the beginner who is struggling to even get the ball up off the ground. If a new golfer doesn't find someone to offer advice and guidance during these early struggles, that player may decide to just give up and try a different hobby.
Pete Styles, along with many other PGA Professionals, believes that there is a better golfer waiting somewhere within you, anxious to be unlocked. Teaching pros tend to believe in their students because they have seen others previously go from a beginner level to a more advanced skill set. If others can do it, there is no reason you can't do the same.
Getting Down to Basics
You probably won't be surprised to learn that Pete Styles likes to focus on the fundamentals of the game when teaching his students. Of course, that's a theme that runs across the majority of PGA Teaching Professionals, and for good reason – the fundamentals of golf are what will lead you to lower scores and more fun out on the links. The player who is willing to buckle down and work on the fundamentals is likely to rise above the golfer who is going from one swing change to another without any game plan.
Even if you aren't a golf teacher yourself, and even if you don't have very much experience on the course, you probably can identify many of the basic golf fundamentals. The grip is a great place to start, and you can also include your stance, your balance, and your tempo. A swing which is built on a firm foundation is likely to lead you in the right direction for years to come.
A Valuable Skill
There is plenty of instructional information available these days on the game of golf. If you want to get better, you won't lack for sources of knowledge. But here's the thing – an experienced teacher such as Pete Styles not only has the information you need in order to move your game in the right direction, but also the ability to relate that information to the player successfully. It's actually the second part of that equation that is the most difficult. If you make the decision to work with a PGA Teaching Pro, you can expect to gain an understanding of the swing that you did not possess previously. Thanks to teachers like Pete Styles, golfers are able to seek continual improvement and an enhanced enjoyment of this great game.
Update:
Pete Styles is a highly respected PGA teaching professional known for his expertise in golf instruction. With years of experience, he has established himself as a knowledgeable and effective teacher who has helped golfers of all skill levels improve their game.
As a PGA teaching professional, Styles has a deep understanding of the golf swing and the various aspects that contribute to a golfer's success. He provides comprehensive instruction covering all areas of the game, including the full swing, short game, putting, and course management.
Styles' teaching style focuses on simplifying the complexities of the golf swing, making it easier for his students to understand and implement the necessary changes. He emphasizes proper fundamentals, alignment, and posture to create a solid foundation for consistent performance.
In addition to in-person lessons, Styles has utilized online platforms to reach a wider audience. He offers video lessons, online coaching, and instructional content through his website and social media channels. These resources allow golfers to access his expertise and benefit from his teaching methods, regardless of their geographical location.
Styles' approach to instruction is characterized by his ability to connect with his students, assess their needs, and tailor his teaching to their specific goals. He understands that every golfer is unique and requires an individualized approach to maximize their potential.
As a PGA teaching professional, Styles is dedicated to continuous learning and staying up-to-date with the latest advancements in golf instruction. He regularly attends professional development programs and stays connected with the golf industry to provide his students with the most effective and current teaching methods.
Whether you are a beginner looking to establish a strong foundation or an experienced golfer seeking to fine-tune your skills, Pete Styles' expertise as a PGA teaching professional can help you improve your game and reach your golfing goals.