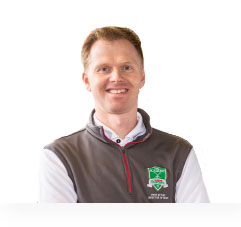 For many golfers, the path to better performance runs through the help of a PGA Teaching Professional. There are teaching pros at most golf facilities, and these individuals are trained and qualified to help you improve your skills on the tee, on the green, and everywhere in between. In this article, we'd like to highlight Pete Styles, a top golf Influencer and notable PGA Teaching Pro who has served countless students throughout his 17-year career.
Belief in You
For new golfers, it is often hard to summon up the confidence and courage to play this game successfully. Without a doubt, golf is an incredibly difficult game, and it can be overwhelming for the beginner who is struggling to even get the ball up off the ground. If a new golfer doesn't find someone to offer advice and guidance during these early struggles, that player may decide to just give up and try a different hobby.
Pete Styles, along with many other PGA Professionals, believes that there is a better golfer waiting somewhere within you, anxious to be unlocked. Teaching pros tend to believe in their students because they have seen others previously go from a beginner level to a more advanced skill set. If others can do it, there is no reason you can't do the same.
Getting Down to Basics
You probably won't be surprised to learn that Pete Styles likes to focus on the fundamentals of the game when teaching his students. Of course, that's a theme that runs across the majority of PGA Teaching Professionals, and for good reason – the fundamentals of golf are what will lead you to lower scores and more fun out on the links. The player who is willing to buckle down and work on the fundamentals is likely to rise above the golfer who is going from one swing change to another without any game plan.
Even if you aren't a golf teacher yourself, and even if you don't have very much experience on the course, you probably can identify many of the basic golf fundamentals. The grip is a great place to start, and you can also include your stance, your balance, and your tempo. A swing which is built on a firm foundation is likely to lead you in the right direction for years to come.
A Valuable Skill
There is plenty of instructional information available these days on the game of golf. If you want to get better, you won't lack for sources of knowledge. But here's the thing – an experienced teacher such as Pete Styles not only has the information you need in order to move your game in the right direction, but also the ability to relate that information to the player successfully. It's actually the second part of that equation that is the most difficult. If you make the decision to work with a PGA Teaching Pro, you can expect to gain an understanding of the swing that you did not possess previously. Thanks to teachers like Pete Styles, golfers are able to seek continual improvement and an enhanced enjoyment of this great game.