Putting Stroke, A No Peek Putter Tip
(Video)
- by Natalie Adams
---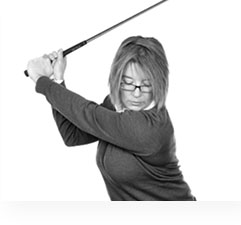 Natalie Adams – PGA Teaching Pro
To massively improve your Putting Stroke and get your hole in a lot more Putts try the following drill where when – which we would call "the No-Peek Putting Stroke." And all we're going to do with that No-Peek Putting Stroke is make sure that you don't let your eyes follow the ball towards the hole once you've hit it. So in that No-Peek Swing, set-up eyes over the ball or just on the inside of the ball, the feet or shoulder with Putt the arms and eyes in long and dangling very relaxed position with the arms and the balls in the centre of the stunts. With a No-Peek Putting Stroke or this No-Peek Drill, hit the ball and just keep your eyes dead on the grass. So I'm not allowing my head to rotate towards the target, I'm not taking my eyes off the spot where the golf ball was on the grass.
And you might – well I'm to liken this to having a dead-eye, so the eye is just looking straight down at the grass below where you've just hit the ball from. If you're rotating your head and you hit the ball and you allow your eyes to follow the ball as it moves towards the hole, you can see that what will happen is as you rotate and let your eyes follow the ball, your body alignment alters, your shoulders turns towards the target as does your chest and then you'll end up pulling the Putter Head off the target line. That will get your hit in the ball over to the left and you won't be as accurate.
So the No-Peek Concept is a great idea, it really keeps your head in position and keeps your shoulders aligned and it allows you to swing the Putter Head more directly along the target line to help you be more consistent. A great drill to get you with that No-Peek Movement would be just hit the Putt with your eyes closed. So if you keep your eyes closed you won't be tempted to follow the ball with your eyes and you'll keep you head in position you'll keep your body aligned and listen for the ball dropping into the hole. So use your ears to play the shot rather than your eyes.
If you are on a much longer Putt, the way I'd work on that again is to keep your eyes dead on the floor and don't allow yourself to turn and look at where the ball is until you feel the ball is got at least half way to the hole. Try those tips, try that No-Peek Swing and you should find that you hole in a lot more Putts.