Stop Bending your Wrist for More Consistent Putting Women Golfer Tip
(Video)
- by Natalie Adams
---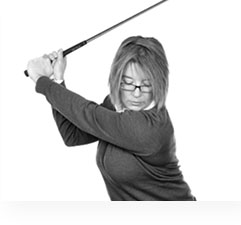 Natalie Adams – PGA Teaching Pro
If you struggle with overactive wrist in a very flicky wrist action during your putting Stroke, it's going to make it really difficult for you to become a consistent and really good putter. It will you give you issues with controlling the club face as you hit the ball, so your accuracy will vary and also make it really difficult to control the distance control and the speed that you hit the putter. So if you're setting up and you're seeing that you've got a very active wrist, very flicky wristy action it will alter the tempo, you're hitting the ball locks to the speed and the distance control becomes awkward and it affects the club face. So here's a great drill to how you reduce the amount of wrist action you've got during the stroke to help your wrist become a lot more passive. So set your feet up, shoulder width apart, you'd have the bull center of the feet, eyes over the ball or just on the inside and really nice and relaxed arm position, okay?
What we want to do is really control the amount of wrist movement here, so the angles we set in the wrist are always the same throughout the stroke. So to simplify it, if you look at the Y shape that my arms and the club are creating, we just want to take that Y shape back, you swing that Y shape through without seeing an excess movement of the wrist. Really good drill to help you with that would be pull it lower down on the handle that you usually would so you've got a good three to four inches above the top of the hands and take a golf ball place it between your arm and the club. If your wrist is the issue, swing now you're going to drop that ball and it will give you the feedback so you understand that you've used your wrist too much.
So you should be able to swing the putter, hit the putt but maintain the ball between your arm and the handle of the putter that will show you haven't used wrist at all and you'll start to develop really effective putting stroke.