Why Use a Claw Putting Grip Best Women Putter Tip
(Video)
- by Natalie Adams
---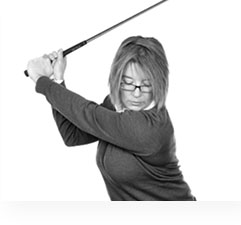 Natalie Adams – PGA Teaching Pro
If you're struggling with your putting, and when you're out in the course you're not making enough putts and it's really causing your scores to go higher than you think you're capable of, then one thing you should look at is changing your putter grip; and possibly moving towards a claw grip.
Now the claw grip will really, really help you because it minimizes the use of your dominant hand. If you find you're not holding a lot of putt, one of the reasons for this can be that your dominant hand is being used too much through the stroke so rather than keeping the wrist passive, you're starting to become quite wristy. Rather than having this type of stroke, where you're creating the pendulum from the shoulders and there's very little wrist movement, your dominant hand is starting to become too active during the stroke. If you're a right handed golfer, your right hand will start to make this action, creating a lot of bend in the wrist. A lot of use of the wrists and you're hinging at the wrist now rather than using the pendulum stroke. It's going to cause you problems with distance control and with accuracy over the club face. Try the claw grip because the claw grip minimizes the use of your right hand. The way to use the claw grip would be, address the ball so the ball's in the middle of the feet. Your eyes are over or just inside the ball and just nice and long with the arms so they're nice and relaxed and just dangling under the shoulders.
You put your hands on as you normally would; now you want to take your right hand off, if you're a right handed golfer. Rather than wrapping the fingers round the back of the handle and placing the thumb on the front, we're actually going to use the index and the middle finger to go on to the front of the club. Around about where the right thumb position is for standard grip. Index and middle finger on to the front of the club, thumb now wraps around the back and the ring finger and little finger just rest along the side of the shaft. Really minimizes the control you have with your right hand if you're a right handed golfer. That's now going to mean you're going to swing the putter much more with your left hand, with your none dominant hand. Then your wrist will be far less active through the stroke.
If you do find you're quite wristy, just try the claw grip and you should find that it really minimizes the wrist during the stroke, so that you're creating much more of a pendulum effect with the putter. That should get you holding a lot more putts and you should see your scores really drop.