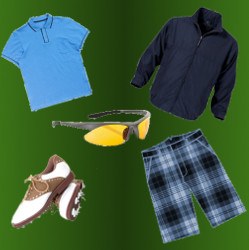 The 1970s ended a long time ago, but the image of golfers in plaid pants and tacky shirts persists in the public eye. Thankfully, today's golfer has a much broader, more fashionable range of suitable clothing to choose from.
Golf is a sport, however, so form should follow function. Being comfortable – as in dry, moving freely and cool or warm depending on the weather – is more important than looking good.
Apparel companies have made huge advances in recent years, integrating so-called "technical fabrics" into golf clothing and generally producing lighter, more flexible and breathable shirts, pants and shorts. If you've got a closet full of heavy cotton polos and bulky pants, you'll want to invest a little money in golf-specific attire.
Elsewhere on this website, we offer advice for outfitting yourself from head to toe. Click these links for articles on the following topics in our "Dress for Success" series: