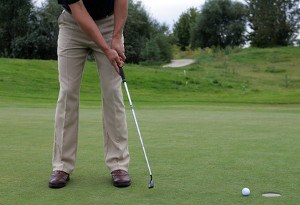 Choosing the right golf shorts and pants is essential for comfort, style, and unrestricted movement on the golf course. Here are some tips to help you dress for success when selecting golf bottoms:
Golf Shorts:
Length: Look for golf shorts that fall just above the knee or mid-thigh. Avoid excessively long or baggy shorts that may interfere with your golf swing.
Fabric: Opt for lightweight and breathable materials such as polyester blends or performance fabrics. Moisture-wicking properties will help keep you dry on hot and humid days.
Fit: Choose a comfortable fit that allows for a full range of motion during your golf swing. Avoid overly tight or restrictive shorts.
Pockets: Check for functional pockets that can hold your golf tees, scorecard, and other essentials without being bulky.
Belt Loops: Ensure that the shorts have belt loops to keep your golf belt in place and maintain a neat appearance.
Color: Solid colors or subtle patterns are versatile and pair well with various golf shirts.
Golf Pants:
Fabric: Choose lightweight and breathable materials suitable for the season. Performance fabrics with stretch are ideal for unrestricted movement.
Length: Golf pants should have a standard length that reaches just above the shoe tops without touching the ground.
Fit: Opt for a tailored fit that flatters your figure without being too tight. Consider pants with a slight stretch for added comfort during the golf swing.
Pockets: Functional pockets are essential for holding small golf accessories without creating bulk.
Color: Solid-colored golf pants in neutral tones such as black, navy, or khaki are versatile and can be paired with various golf shirts.
General Tips:
Dress Code: Always check the dress code of the golf course you plan to play at and adhere to their guidelines for appropriate attire.
Climate Consideration: Choose shorts or pants based on the weather conditions. Lightweight and breathable fabrics are ideal for hot weather, while thicker materials provide warmth during cooler rounds.
Brands: Consider reputable golf apparel brands known for their quality and performance on the course.
Versatility: Opt for bottoms that can be easily paired with different golf shirts, allowing you to create various outfits.
Q&A on Golf Shorts and Pants:
Can I wear denim shorts or jeans for golf? Denim shorts and jeans are generally not considered appropriate golf attire. Stick to golf-specific shorts and pants made from performance materials.
Should I wear shorts or pants for golf in hot weather? Both shorts and pants can be suitable for hot weather. Choose lightweight and breathable materials to stay comfortable on the course.
Can I wear cargo shorts for golf? Cargo shorts with excessive pockets may not be the best choice for golf, as they can create bulk and hinder your swing. Opt for more streamlined shorts with functional pockets.
Are jogger-style pants suitable for golf? Jogger-style pants made from performance fabrics with a tailored fit can be suitable for golf, especially in more casual settings.
Remember that comfort and functionality are essential when choosing golf shorts and pants. The right bottoms will allow you to focus on your game without any distractions on the course.
In addition to matching your top, the bottom of your golf outfit should feature a handful of standard elements. In fact, when buying golf shorts and pants, look for the same benefits that are recommended when shopping for golf shirts.
Obviously, your first priority is comfort and fit. Beyond that, stick with shorts and pants made specifically for golf. Not only will you look the part, you'll enjoy the freedom of movement engineered into the apparel.
Budget permitting, so-called technical fabrics are the way to go. They're lightweight, breathable, flexible and offer moisture management that keeps the legs dry. Anti-microbial and UV protection are usually part of the package, too. Some models blend cotton with materials including polyster and spandex for the best of traditional styling and cutting-edge performance.
For bonus features, look for a gripping waistband to keep your shit tucked nice and neat, and easy-access pockets for grabbing tees, ball marks and the like.