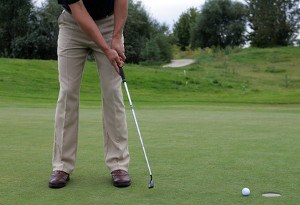 In addition to matching your top, the bottom of your golf outfit should feature a handful of standard elements. In fact, when buying golf shorts and pants, look for the same benefits that are recommended when shopping for golf shirts.
Obviously, your first priority is comfort and fit. Beyond that, stick with shorts and pants made specifically for golf. Not only will you look the part, you'll enjoy the freedom of movement engineered into the apparel.
Budget permitting, so-called technical fabrics are the way to go. They're lightweight, breathable, flexible and offer moisture management that keeps the legs dry. Anti-microbial and UV protection are usually part of the package, too. Some models blend cotton with materials including polyster and spandex for the best of traditional styling and cutting-edge performance.
For bonus features, look for a gripping waistband to keep your shit tucked nice and neat, and easy-access pockets for grabbing tees, ball marks and the like.