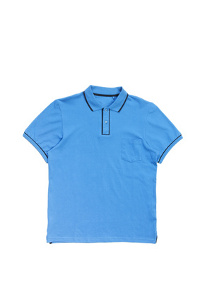 You'd probably never think of blaming your shirt for a lousy round of golf. (For fear of being laughed out of the 19th hole, if nothing else.) But aside from your driver, putter and sand wedge, your shirt may be the most important piece of equipment on any given day.
Being uncomfortably hot or cold, restricted from free movement or battling sticky sleeves can really hinder your game. To cite one example: You've probably noticed many pros, including Tiger Woods, tug their left sleeve upward before hitting a drive. This isn't a fashion statement or a show of bravado – it keeps the sleeve from grabbing the shoulder on the backswing.
Pros do this less often nowadays thanks to the proliferation of technical fabrics. High-tech materials — most synthetic, some natural – have found a voracious market in the golf world, where players seek every possible edge that could shave a stroke from their scores.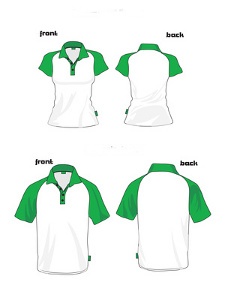 Here are a few features and benefits to look for when shopping for golf shirts:
Made from materials such as polyester, spandex, lycra, nylon and mercerized cotton, usually a blend of several fabrics.
Lightweight, flexible and breathable.
Moisture-management properties, such as "wicking," which keeps your body and shirt dry in heat and humidity.
UV protection (without it, the sun can actually penetrate your shirt and reach the skin).
Anti-microbial properties (odor protection).
For playing in cold weather, shirts made with Gore-Tex provide warmth without added weight and bulk.
Choosing the right golf shirts is essential for both comfort and style on the course. Golf shirts are designed to provide freedom of movement during the golf swing while keeping you cool and dry. Here are some tips on how to choose the perfect golf shirts:
Moisture-Wicking Fabric: Look for golf shirts made from moisture-wicking materials such as polyester or blends. These fabrics pull sweat away from your skin and allow it to evaporate quickly, keeping you dry and comfortable.
Breathability: Choose golf shirts with good breathability, allowing air to circulate and regulate your body temperature during hot rounds.
Stretch and Flexibility: Opt for shirts with a bit of stretch or added spandex for ease of movement during your golf swing.
Collar Design: Golf shirts typically come with either a traditional collar or a modern performance collar. Select the one that best suits your style and comfort preferences.
Fit: Ensure that the golf shirt fits well without being too tight or too loose. A slightly tailored fit often works best for most golfers.
UV Protection: Some golf shirts come with built-in UV protection to shield you from harmful sun rays during long rounds in the sun.
Color and Style: Choose colors and styles that match your personal preferences while adhering to any dress code regulations at the golf course.
Sleeve Length: Golf shirts are available in various sleeve lengths, including short sleeve, three-quarter sleeve, and long sleeve. Choose one based on the weather and your comfort.
Prints and Patterns: While solid-colored shirts are classic and versatile, you can also explore shirts with subtle prints or patterns for a more fashionable look.
Brand Reputation: Consider purchasing golf shirts from reputable golf apparel brands known for their quality and performance on the course.
Durability: Check the stitching and overall quality of the shirt to ensure it can withstand frequent use and washing.
Vents and Mesh Panels: Some golf shirts feature vents or mesh panels strategically placed for added ventilation and cooling.
Q&A on Golf Shirts:
Can I wear a t-shirt for golf? T-shirts are generally not considered proper golf attire on traditional courses. It's best to opt for golf-specific shirts that meet dress code requirements.
Should I tuck in my golf shirt? Tucking in your golf shirt is generally the preferred style on the golf course, especially in formal settings. However, some courses may have relaxed dress codes that allow untucked shirts.
Can I wear a sleeveless golf shirt? Sleeveless golf shirts are acceptable on many courses, especially during hot weather. However, it's essential to check the dress code of the specific course you plan to play.
What is the best fabric for golf shirts? Polyester and polyester blends with moisture-wicking properties are popular choices for golf shirts due to their breathability and quick-drying capabilities.
Can I wear a golf shirt off the course? Yes, many golf shirts are designed with versatile styles that can be worn casually off the course as well.
Remember to consider the climate, the course's dress code, and your personal comfort when choosing golf shirts. By selecting the right golf shirts, you'll not only look great but also feel comfortable and ready to perform at your best on the golf course.
There are several popular golf apparel brands known for their quality, style, and performance on the golf course. Here are some of the most well-known golf apparel brands:
Nike Golf: A global sportswear giant, Nike Golf offers a wide range of golf apparel, including shirts, pants, shorts, and outerwear. They are known for their modern designs and innovative technologies.
Adidas Golf: Another major player in the golf apparel industry, Adidas Golf combines style and functionality in their clothing. They offer a variety of apparel, footwear, and accessories for golfers of all skill levels.
Under Armour Golf: Known for its athletic performance gear, Under Armour Golf offers high-quality golf apparel designed to keep golfers comfortable and dry during their rounds.
PUMA Golf: PUMA Golf is known for its trendy and modern designs. They offer a wide range of golf clothing and accessories, often seen on tour professionals.
Callaway Apparel: Callaway is a trusted name in the golf equipment industry, and their apparel line is no exception. They offer a variety of golf shirts, pants, and outerwear.
Titleist Apparel: Titleist, known for its golf balls and clubs, also offers a line of golf apparel. They focus on classic and timeless designs for a clean and sophisticated look.
FootJoy: Primarily known for its golf shoes, FootJoy also offers a range of golf apparel, including performance polos, outerwear, and layering pieces.
Cutter & Buck: This brand specializes in classic and traditional golf apparel, often favored by golfers who prefer a more refined and sophisticated style.
Galvin Green: A premium golf apparel brand from Sweden, Galvin Green is known for its high-performance and weather-resistant clothing, especially suitable for adverse weather conditions.
TravisMathew: With a focus on lifestyle-inspired designs, TravisMathew offers modern and fashionable golf apparel that seamlessly transitions from the course to everyday life.
Oakley Golf: Oakley's golf apparel line combines style and performance, with a focus on innovative technologies and materials.
J.Lindeberg: A Swedish brand known for its modern and fashion-forward designs, J.Lindeberg offers high-quality golf apparel for both men and women.
These are just a few of the popular golf apparel brands available. Each brand has its unique style and features, so golfers can choose the one that best suits their preferences and needs on the golf course.