Golf Pro Steve Stricker: Firm Wrists Throughout Swing -
(Video)
- by Pete Styles
---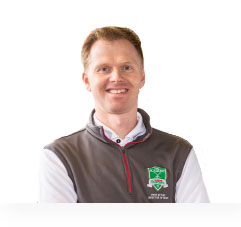 Pete Styles – PGA Teaching Pro
So now let's have a look at Steve Stricker, not one of the most glamorous and most flamboyant players on the tour, but certainly one of the wealthiest players on the tour. Now, Steve Stricker plays a game that differs from other people's game. Steve Stricker plays his own game. He plays within himself nearly all of the time. And he's one of the only players that's really doing well without bombing the ball a million miles. Maybe Luke Donald's another example of this. They're winning consistently. They're winning big titles. They're winning big checks. But they're not bombing the ball 300 yards. And I think there's something that we can all learn from that really. The point is that you should play your own game. You don't necessarily have to watch the world's best players or even the best players in your club or in your four-ball and try and copy that. You have to work out your own strengths and your own weaknesses and then play to your strengths and go and work on your weaknesses.
Now the best way to do this is look at your own stats. So look at the things that you're doing well and not so well on the golf course. The key stats really for most people are going to be fairways hit. But I like to broaden that target a little bit and say good drives. Now, let me explain that. If I hit the ball 300 yards straight down the middle of the fairway and it rolls one yard into the semi-rough, I'm still going to classify that as a good tee shot, particularly if I've got a good line to the flag. But, likewise, if I have a massive snap-hook-pull, bounces off a tree, rolls over the lady's tee and onto the first yard of the fairway and I'm still 400 yards from the green, but I'm on the fairway, I'm not going to put a tick in that box. So have a little bit of a leeway there. Look for good tee shots and bad tee shots. If you're hitting good tee shots, good; bad tee shots, bad.
Then we're looking for greens in regulation. That's did I take two shots to get on to the green for a par-four, three shots on to the green for par-five, and obviously one shot on to the green for par-three. So am I hitting good tee shots? Am I hitting greens in regulation? If I'm missing greens in regulation, am I scrambling? Now, the tour stat for scrambling is getting up and down to make par; so chipping on to the green, holing the putt to make par. Then we've got sand saves; sand stop from a bunker. Am I getting out of the bunker? Am I holing the putt to save par?
Then we've got number of putts. So how many putts did you take in an entire round? Another variation of that might be how many putts did you take on the greens you hit in regulation. So when I've hit a par four in two, how many putts am I taking? There's no point hitting the green in two and I'm taking three putts still to make bogey.
The other stat that I think is worthwhile for amateur and club golfers is number of penalty shots. If you're taking two or three penalty shots from lost balls or dropping out of water at every round, that's quite a big number riding on to your score as well. So look at all these variations. Look at all those stats. Work through those stats. Analyze what your strengths and weaknesses are. Then go to the practice ground and start working on those areas or consult a PGA golf professional and mention that this is my area of weakness, this is the bit that I want to improve on. But take a lesson out of Steve Stricker's book, work on your weak areas, stay really focused on playing your own game, and not trying to copy what other people are doing, particularly on this kind of hitting the ball as far as possible. If you've got a good short game, you know how far how you hit all of your irons and you can putt well, you'll probably outscore most people even if they're outdriving you.