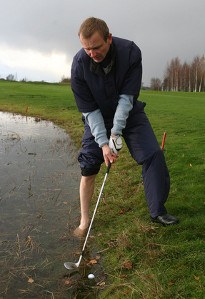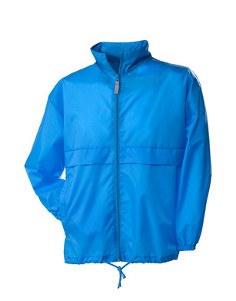 There's no avoiding inclement weather on the golf course. And an umbrella simply isn't sufficient to protect you from the elements.
You need quality rain gear for those days when Mother Nature shows her ugly side. A jacket and slipover pants are necessities, and you may want to invest in a wind shirt or vest as well.
The jacket is the most important piece. The best – and most expensive – feature a waterproof Gore-Tex, membrane that's guaranteed to prevent moisture from leaking through under any conditions, while still providing circulation and breathability. Be mindful of the differences between waterproof clothing and apparel marked "water resistant," "rainproof" or "showerproof." These fabrics will eventually become porous if doused with enough water.
A good rain jacket should also fit snugly so there's not a lot of loose material interfering with your swing, but not so tightly that you feel restricted. Jackets with full-length zippers tend to puff out from the belly and get in the way – especially when putting — so you may prefer a half-zipper or pullover top instead.
Wind shirts, short-sleeved jackets and vests provide similar protection to a regular jacket, with less bulk and heat retention.
As for rain pants, the same waterproof/water resistant standards apply. What's more, they can come in handy even when it's not raining. For example, to keep out morning dew, or to use as a layer over shorts when the temperature starts low and climbs during the round. Most are made with a stretchable elastic waistband; a zipper at the bottom of each leg is a nice feature, too.